It's not all over!
HACAN is at the heart of a coalition opposed to a third runway at Heathrow.
A MAJOR RALLY AGAINST A THIRD RUNWAY
10th October 2015
Parliament Square, Westminster
10.30 am – 12.30 pm
A third runway would mean another 250,000 flights a year. That is a terrifying prospect for people already bombarded by aircraft noise.
The third runway would be London's 8th in total — above most equivalent cities across the world.
And a new runway will mean a new flight path. More noise for more people.
No wonder the protests have already started.
An independent Mori Poll shows that just 13.2% of Britons back a third runway at Heathrow.
Help us by joining our cause and helping the campaign against a third runway here.
Residents speak out
Watch one Sipson resident's plea for politicians to come to the villages to see where their decision will have most impact:
And there is serious opposition with the cabinet to a third runway. At least 5 cabinet misters are opposed to it.
People have joined HACAN at a faster rate since the Airports Commission recommended a 3rd runway than at any other time in our long history.
They know there are 250,000 good reasons oppose a third runway.
HACAN is not a direct action organisation but we will be campaigning hard to persuade David Cameron to keep his promise, 'No ifs; no buts; there will be no third runway' when he announces his decision in November.
Keep checking the website for details of campaigning events.
The obstacles to a 3rd runway remain enormous:
– Noise disturbing more people than any other airport in Europe
– Air Pollution levels hovering above the EU legal limits
– Thousands of people facing eviction from their homes
– Millions of pounds of public money required to upgrade the roads network
– And the prospect of the biggest environmental battle in Europe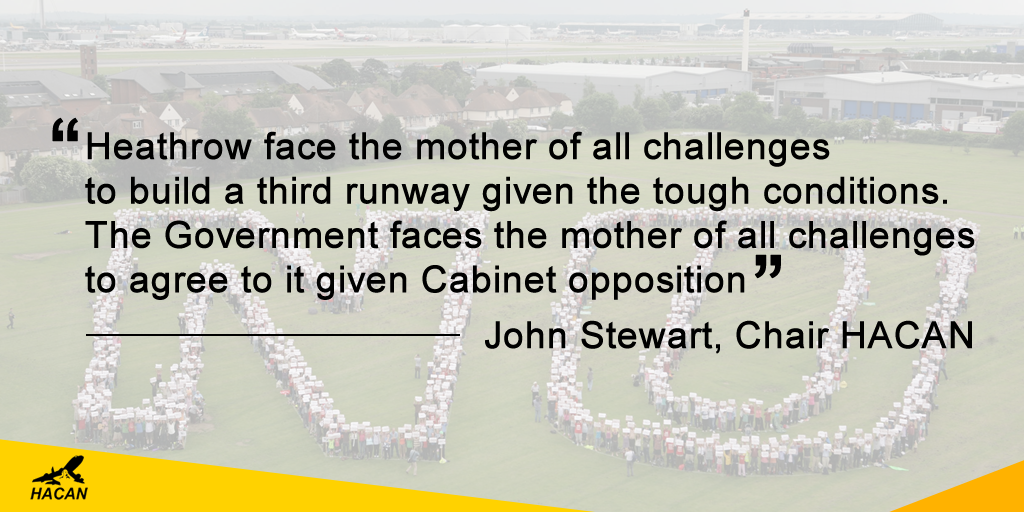 Residents will not be quiet
As Hacan's new YouTube series proves, residents across London and beyond are affected by Heathrow noise and the threat of expansion.
View the new video series in the player below, or click 'Playlist' to browse the collection
HACAN campaigns to stop further expansion of Heathrow and to cut the noise people hear from the existing airport. Find out more here.