Protest, Protest, Protest against a 3rd Runway
 Upcoming Event: 

Not all trade unions back a 3rd Runway at Heathrow

Public Meeting 17th May 7.30pm

Trade Unions against a Third Runway

Speakers include:   Manuel Cortes, Gen Sec TSSA Chris Baugh, Ass Gen Sec PCS

More details: Trade Union event leaflet

Why a 3rd runway is undeliverable 

7 easy-to-read briefing sheets spelling out the 7 reasons why a 3rd runway cannot be delivered
Sign the Petition: https://campaigns.350.org/petitions/support-the-heathrow-13-and-stop-the-new-runway

Away from the 3rd runway there is some encouraging news on flight paths emerging.  Check out the flight path tab on the left and have a look at our latest blog: http://hacan.org.uk/blog/?p=470

PLANE STUPID Activists given suspended sentences:  The 13 Plane Stupid activists who occupied the runway at Heathrow in July were each given jail sentences of 6 weeks, suspended for a year, plus community service at Willesden Magistrates Court on 24th February.

In this very human video the  #Heathrow13 explain why they occupied the runway & what it felt like to face possibility of jail http://gu.com/p/4h3nh/stw 

Below, all 13 of Plane Stupid protesters on the HACAN-sponsored Advan in Westminster the day before their sentencing and after a press conference staged in Parliament with their relatives and MPs  

Our Flickr page also has great photos of pictures outside the court and of other events – check it out to see the range of protests that have been taking place 
A final decision on new runways has been postponed until at least the middle of next year.  For details: http://wp.me/p5NPQ9-TS

READ: 20 Things To Know About A 3rd Runway

Download our Briefings in PDF format: Third Runway timeline, Third Runway at Heathrow FAQ
An independent Mori Poll shows that just 13.2% of Britons back a third runway at Heathrow.
There's Cabinet opposition to a 3rd Runway
"London's role as an international air transport hub can be maintained without additional runways at Heathrow. A second runway at Gatwick, plus enhanced transport links between the airports and better transport links to London will create a "virtual" hub airport, maintaining Heathrow's role in the local economy without expanding it." Phillip Hammond, Foreign Secretary
"I do not believe there is a case to build a further runway at Heathrow when more economic and less invasive solutions to our nation's airport capacity problem are available".  Greg Hands, Chief Secretary to the Treasury
"It does seem that the Airports Commission have recommended a Heathrow third runway option that is the most expensive, noisiest, most polluting and damaging to health, most disruptive to build, and riskiest in terms of deliverability. It also provides less new capacity compared to Gatwick in terms of extra flights".  Justine Greening, Secretary of State for International Development
Northern Ireland Secretary Theresa Villiers is a firm opponent.
Home Secretary Theresa May has argued against a third runway.
Help us by joining our cause and helping the campaign against a third runway here.
Residents speak out
Watch one Sipson resident's plea for politicians to come to the villages to see where their decision will have most impact:
And there is serious opposition with the cabinet to a third runway. At least 5 cabinet misters are opposed to it.
People have joined HACAN at a faster rate since the Airports Commission recommended a 3rd runway than at any other time in our long history.
They know there are 250,000 good reasons oppose a third runway.
HACAN is not a direct action organisation but we will be campaigning hard to persuade David Cameron to keep his promise, 'No ifs; no buts; there will be no third runway' when he announces his decision in November.
Keep checking the website for details of campaigning events.
The obstacles to a 3rd runway remain enormous:
– Noise disturbing more people than any other airport in Europe
– Air Pollution levels hovering above the EU legal limits
– Thousands of people facing eviction from their homes
– Millions of pounds of public money required to upgrade the roads network
– And the prospect of the biggest environmental battle in Europe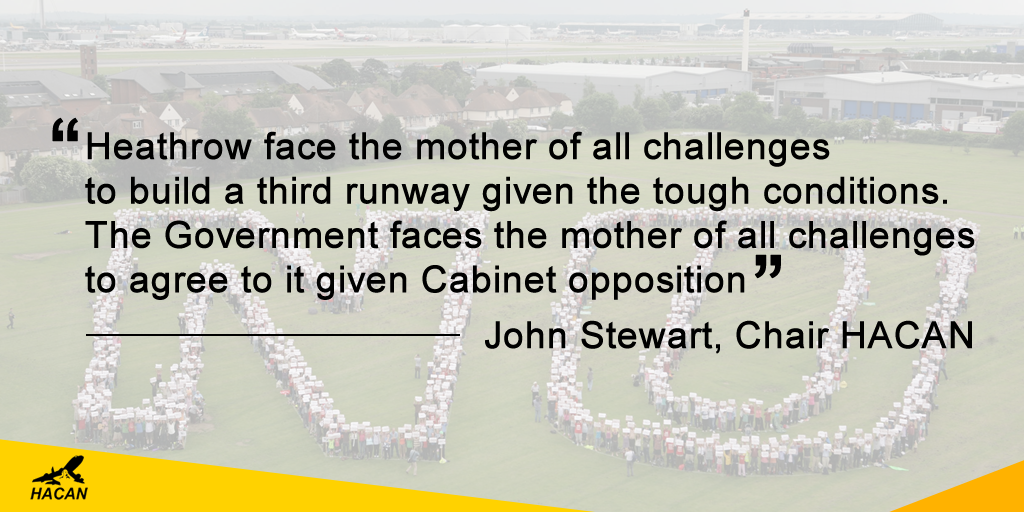 Residents will not be quiet
As Hacan's new YouTube series proves, residents across London and beyond are affected by Heathrow noise and the threat of expansion.
View the new video series in the player below, or click 'Playlist' to browse the collection
HACAN campaigns to stop further expansion of Heathrow and to cut the noise people hear from the existing airport. Find out more here.