No change proposed for night flight regime at Heathrow
The Government is proposing no change to the number of night flights at Heathrow.  The consultation document, released today (12/1/17) by the Department for Transport, argues that the current regime should continue for the next five years.  It will then be clearer whether a third runway will be underway.  Permission to build a third runway is expected to be conditional on a tougher night flight regime being introduced when it opens.
At present an average of 16 flights each night are allowed to land at Heathrow between 11.30pm and 6am.  There are no scheduled departures during this period.  The first flight lands at 4.30am.
John Stewart, chair of HACAN said, "Local residents will be disappointed that their early morning wake-up call remains the first flight at 4.30am.  We do, though, see the sense in postponing any changes until the question of a third runway is settled.  During the forthcoming consultation on the new runway we will be arguing very strongly for no flights before 6am."
For more details go to our latest news or press release sections
The consultation is available at https://www.gov.uk/government/consultations/night-flight-restrictions-at-gatwick-heathrow-and-stansted
A HACAN Briefing on the consultation is available at http://hacan.org.uk/wp-content/uploads/2013/06/Night-Flight-Consultation-2017-HACAN-Briefing.pdf  (pdf)
2017: Department for Transport to prepare Aviation White Paper
It is now clear that 2017 won't all be about a third runway.  It will feature prominently as the Government consults on its plans – for details see Third Runway News below.  But the Department for Transport (DfT) will also consult on a series of aviation-related Green Papers throughout the year leading to a White Paper early next year.
Consultation on aircraft noise policy
The first green paper will be on noise and aviation.  It will form part of the DfT's consultation on airspace policy  expected to be published late January.  This consultation will set out aviation noise policy for many years to come.  As campaigners, we have the awesome responsibility but also the great opportunity to influence the policy;  to ensure it includes many of the measures we have been lobbying for over many years.  The White Paper will not result in the immediate improvement to the noise climate we all want to see but it does give us a once-in-a-generation chance to have a real input into the country's aviation noise policy.
Read the HACAN  blog: http://hacan.org.uk/blog/?p=504
Survey reveals Hounslow as the most overflown London borough but……
Research carried out by the campaign group HACAN has revealed that Hounslow to be the most overflown borough in London.  Richmond is in second place but the surprise is that that only three of the top 12 most boroughs are in West London with Waltham Forest being the third most overflown.
Read the survey: http://hacan.org.uk/wp-content/uploads/2013/06/Most-overflown-boroughs-in-London-2016.pdf 
Joint call for Independent Noise Authority
HACAN has joined with Heathrow Airport to call for an Independent Noise Authority to be set up.  The unkilely allies have produced a joint report with suggestions of how an Authority could work in advance of a Department of Transport consultation on the subject, expected in January.  The two groups have also sent a joint letter to the Transport Secretary.
Read the report: file:///C:/Users/user/Downloads/IANA-Joint-Paper-HACAN-and-Heathrow-Airport1.pdf 
Read the press release: http://mediacentre.heathrow.com/pressrelease/details/81/Corporate-operational-24/8054
HACAN welcomes commitment of new Richmond MP to continue fight against airport expansion
HACAN has welcomed the commitment of the newly-elected MP for Richmond Park and North Kingston Sarah Olney to continue the fight against Heathrow expansion after her defeat of Zac Goldsmith last night.  The first words of her victory speech were, "Zac, let me assure you I will continue your fight against Heathrow."
HACAN chair John Stewart said, "We welcome Sarah Olney's commitment to stand firm against the proposed third runway and look forward to working with her in Parliament.  The Liberal Democrats have a proud record in opposing Heathrow expansion."
And a big thank-you to Zac Goldsmith
Few people have done more to oppose Heathrow expansion than Zac Goldsmith.  He has worked tirelessly in Parliament and outside it and has been the driving force behind many of the great events that have taken place.  He's an honourable man; a man of his word.  He has been – and will remain – a hero of the movement.
 Our Flickr page has great photos of pictures of recent campaigning  events – check it out to see the range of protests that have been taking place 
Parliamentary Bill on Aircraft Noise
The first reading of the amendment to the Environmental Protection act 1990 section 3 to include Aircraft Noise as a Statutory Nuisance was proposed and passed in the house of commons this afternoon with the second reading on 20th January 2017. The bill being introduced by Tania Mathias MP may not become law but it does highlight the fact that aircraft noise is exempt from the law covering all other forms of noise.  https://youtu.be/PgXtYadPStw
December 2016:  Progress Report on Noise at Heathrow
Heathrow Airport has made a useful start in tackling noise problems over the last few years but, of course, more needs to be done.  This short report from HACAN outlines the progress:  http://hacan.org.uk/wp-content/uploads/2013/06/Heathrow-noise.pdf
Third Runway News
The Government gave the green light to a third runway on 25th October.
Here is the official statement: https://www.gov.uk/government/news/government-decides-on-new-runway-at-heathrow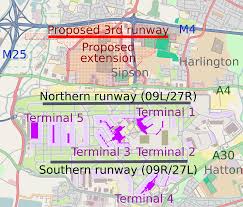 The fact  Government gave the green light to a 3rd runway doesn't mean it will ever be built. The opposition is huge: residents, activists, local authorities, politicians from all parties. The earliest it will get final planning permission is 2020. There will be a lot of turbulence before it takes off, if it ever does.
In the short term we can expect a legal challenge from key local authorities, plus Greenpeace.  Teddington Action Group has said it will mount a challenge in the courts.
In an unprecedented step, cabinet ministers who have been long-standing opponents of it – people like Justine Greening or Boris Johnson – can opt out of the decision.
What happens next:
In late January 2017 the Government will consult on
Its wider National Policy Statement on Airports.  In essence this is a consultation on its proposal for a 3rd runway.  It will ask for views on the need for a third runway as well as on its local impacts.  The consultation is expected to last 3/4 months.  During that time the Department for Transport will hold consultation events in a fair number of boroughs.
Its draft Airspace Strategy (but not individual flight paths).  This will be wider that airspace and will, in effect, be a consultation on aviation noise policy.
In late spring/early summer the National Policy Statement (NPS) will be examined by Parliament's Transport Select Committee
This will lead to a vote in Parliament to approve the NPS during winter 2017/18.  Even that is not the end of the process.  Heathrow will then need to consult on and lay its detailed plans before a planning inquiry.  It does not expect final planning permission before 2020/1 and aims to built the runway by 204/5.
Scroll down more news and briefings on a 3rd runway
Noise and Flight Paths News
Noise remains a huge problem for a lot of residents under the Heathrow flight paths. This short paper provides a brief overview of some of the key pieces of work which Heathrow Airport has done, often in conjunction with community and campaign groups, over the last few years to assess, manage and reduce the noise. It also looks forward to what is in the pipeline.  A big opportunity to tackle noise will come when future airspace changes are introduced. These will take place whether of not a third runway is built. But since these new flight paths are unlikely to be in place much before 2014, it is essential that Heathrow does as much as it can to cut noise over the next few years.  Read the paper:  http://hacan.org.uk/wp-content/uploads/2013/06/Heathrow-noise.pdf
You can find maps of flight paths on Heathrow's website: http://www.heathrow.com/noise/facts,-stats-and-reports/operational-data/annual-flight-maps
You can also track flights as they land and take-off: http://webtrak5.bksv.com/lhr4
And you can see what the flight pattern was like over your house during the past six years: http://xplane.bksv.com/xplane/
Many people are in despair about the constant noise over their heads.  95% of the emails HACAN gets that contain a complaint are from areas which get no respite from the noise.  Read more here:  http://hacan.org.uk/blog/?p=477
HACAN will fully engage in the consultation on airspace changes when it is publishes early next year.  If these changes are introduced well, it is an opportunity to bring relief from the constant noise so many communities, a lot of them over 15 miles from the airport, are experiencing.  It is now clear that the consultation will also cover all aspects of aviation noise policy.
Heathrow has commissioned a major study, expected to be published in Spring 2017, looking at the most effective way to introduce meaningful respite for more communities.  In July 2016 it published a preliminary study it carried out on respite: 2694_FinalReport_2-0_June 2016
Respite could bring real relief to many communities. 
Read why HACAN backs respite: http://hacan.org.uk/blog/?p=486
And why 'respite plus' may be needed for people living in 'hotspots: http://hacan.org.uk/blog/?p=489
 Heathrow's latest Blueprint for Noise Reduction contains welcome measures in the battle to cut noise: http://www.heathrow.com/file_source/HeathrowNoise/Static/Heathrow_Blueprint_for_Noise_Reduction_2.pdf
Check out our flight paths button for up-to-date developments:  http://hacan.org.uk/flight-paths-explained/
Aircraft Noise and Mental Health
HACAN, in conjunction with the Aviation Environment Federation, staged a successful seminar on aircraft noise and mental health on 4th July in Parliament.  It was chaired by Tanya Mathis MP.  The speakers included Dirk Schreckenberg, one of the authors of the ground-breaking NORAH Study, and Matt Gorman, Director of Sustainability at Heathrow Airport.
 Summary of presentations of seminar on aircraft noise and mental health (pdf)
Read latest blog on what could be done to ease the situation for people with mental issues living under the flight paths: http://hacan.org.uk/blog/?p=489
Here is the link to a powerful blog I put on the impact of concentrated flight paths on one man's mental health http://hacan.org.uk/blog/?p=501 .
More on the 3rd Runway
Theresa May has fiercely opposed Heathrow expansion in the past.  For details see: http://wp.me/p5NPQ9-Wg
Short Briefing
Booklet Heathrow 3rd Runway
and video on why a 3rd runway could curtail growth a airports outside London and the South East. 
Why a 3rd runway is undeliverable 
7 easy-to-read briefing sheets spelling out the 7 reasons why a 3rd runway cannot be delivered
READ: 20 Things To Know About A 3rd Runway

Download our Briefings in PDF format: Third Runway timeline, Third Runway at Heathrow FAQ
Help us by joining our cause and helping the campaign here.