The Prime Minister said on 19th October than an announcement on a new runway will be made by the end of October.
She also said that, if a green light is given to a 3rd runway at Heathrow, cabinet ministers who have been long-standing opponents of it – people like Justine Greening or Boris Johnson – can opt out of the decision.
The Prime Minister also set out the timetable for the next year.  It has been portrayed as a delay but it is the expected process.
There would be no Parliamentary approval of a third runway until after a vote on the National Policy Statement (NPS) on Aviation in Winter 2017/18.
In the first half of next year the Government will consult on:
The local impacts of its preferred option
Its wider National Policy Statement on Aviation since the statement will include all aspects of aviation policy, not just the runway
Its draft Airspace Strategy (but not individual flight paths)
This will lead to a vote in Parliament to approve the NPS during winter 2017/18.  Even that is not the end of the process.  Heathrow will then be required to draw up an Environmental Impact Assessment to form part of its detailed proposals for a new runway which will need to go to a Planning Inquiry.
Heathrow never expected it would get final permission to start digging until 2020/21 (and complete it by 2024/5).  Yesterday's announcement by Theresa May does not change that.
You can read the Prime Minister's letter here: 
and here:  
Under pressure from Government Heathrow's chairman has said the airport, if given the green light for a 3rd runway, will seek to get it completed as soon as possible and to cut the cost of building it by £3 billion.  Government is concerned that, although a new runway is privately funded, it might impose higher costs on passengers as they would pay indirectly: airlines would be charge higher landing fees to raise money for the new runway which means they would change higher fares. Government fears higher fares would deter people coming to the UK.
Our Flickr page has great photos of pictures of recent campaigning  events – check it out to see the range of protests that have been taking place 
Theresa May has fiercely opposed Heathrow expansion in the past.  For details see: http://wp.me/p5NPQ9-Wg
Leading members of May's cabinet have also been opponents of a third runway.  Boris Johnson, the new Foreign Secretary, has famously said he would lie in front of the bulldozers to stop expansion.  Education Secretary Justine Greening has been a long-standing opponent.  The Chancellor, Philip Hammond, has backed Gatwick.  And Chris Grayling, now in charge at transport, voted against Labour's proposals in 2009.
The opponents of Heathrow expansion have come out fighting.  On Friday 16th September all these reports appeared in the press:
Foreign Secretary Boris Johnson comes out fighting against a 3rd runway:  http://www.telegraph.co.uk/news/2016/09/15/boris-johnson-says-heathrow-should-be-consigned-to-the-dustbin-a/
A piece from former Aviation Minister Theresa Villiers in today's Telegraph backing Gatwick: http://www.telegraph.co.uk/news/2016/09/16/if-theresa-may-wants-britain-to-soar-she-should-grant-a-new-runw/
A detailed analysis by the All Party Parliamentary Group on Heathrow setting out 16 key risks of the Heathrow runway plan, on cost etc:  http://www.airportwatch.org.uk/wp-content/uploads/Heathrow-Expansion-A-Risk-Assessment.pdf …
News in the Standard that Windsor and Maidenhead are amongst the councils vowing to take the Government to court should it give the go-ahead to 3rd runway: http://www.standard.co.uk/news/london/theresa-mays-local-council-vows-court-fight-if-she-backs-new-heathrow-runway-a3346631.html
It is possible that the Prime Minister may give a free vote to her party in the House of Commons.
Scroll down more news and briefings on a 3rd runway
Heathrow Today
Below we detail the huge problems there are and some of the solutions, particularly around respite, but Heathrow's latest Blueprint for Noise Reduction contains welcome measures in the battle to cut noise: http://www.heathrow.com/file_source/HeathrowNoise/Static/Heathrow_Blueprint_for_Noise_Reduction_2.pdf
'Give us a Break from the Noise'
Many people are in despair about the constant noise over their heads.  95% of the emails HACAN gets that contain a complaint are from areas which get no respite from the noise. (The picture above shows Heathrow and London City aircraft converging over Stockwell, each plane below 4,000ft)   Read more here:  http://hacan.org.uk/blog/?p=477
Heathrow has commissioned a major study, expected to be published in Spring 2017, looking at the most effective way to introduce meaningful respite for more communities.  In July 2016 it published a preliminary study it carried out on respite: 2694_FinalReport_2-0_June 2016
Respite could bring real relief to many communities. 
Read why HACAN backs respite: http://hacan.org.uk/blog/?p=486
And why 'respite plus' may be needed for people living in 'hotspots: http://hacan.org.uk/blog/?p=489
In the the autumn the Department for Transport is expected to publish a national consultation on airspace changes.  If these changes are introduced well, it is an opportunity to bring relief from the constant noise so many communities, a lot of them over 15 miles from the airport, are experiencing.
Check out our flight paths button for up-to-date developments:  http://hacan.org.uk/flight-paths-explained/
Seminar on Aircraft Noise and Mental Health
HACAN, in conjunction with the Aviation Environment Federation, staged a successful seminar on aircraft noise and mental health on 4th July in Parliament.  It was chaired by Tanya Mathis MP.  The speakers included Dirk Schreckenberg, one of the authors of the ground-breaking NORAH Study, and Matt Gorman, Director of Sustainability at Heathrow Airport.
 Summary of presentations of seminar on aircraft noise and mental health (pdf)
Read latest blog on what could be done to ease the situation for people with mental issues living under the flight paths: http://hacan.org.uk/blog/?p=489
More on the 3rd Runway
Short Briefing
Booklet Heathrow 3rd Runway
and video on why a 3rd runway could curtail growth a airports outside London and the South East. 
Why a 3rd runway is undeliverable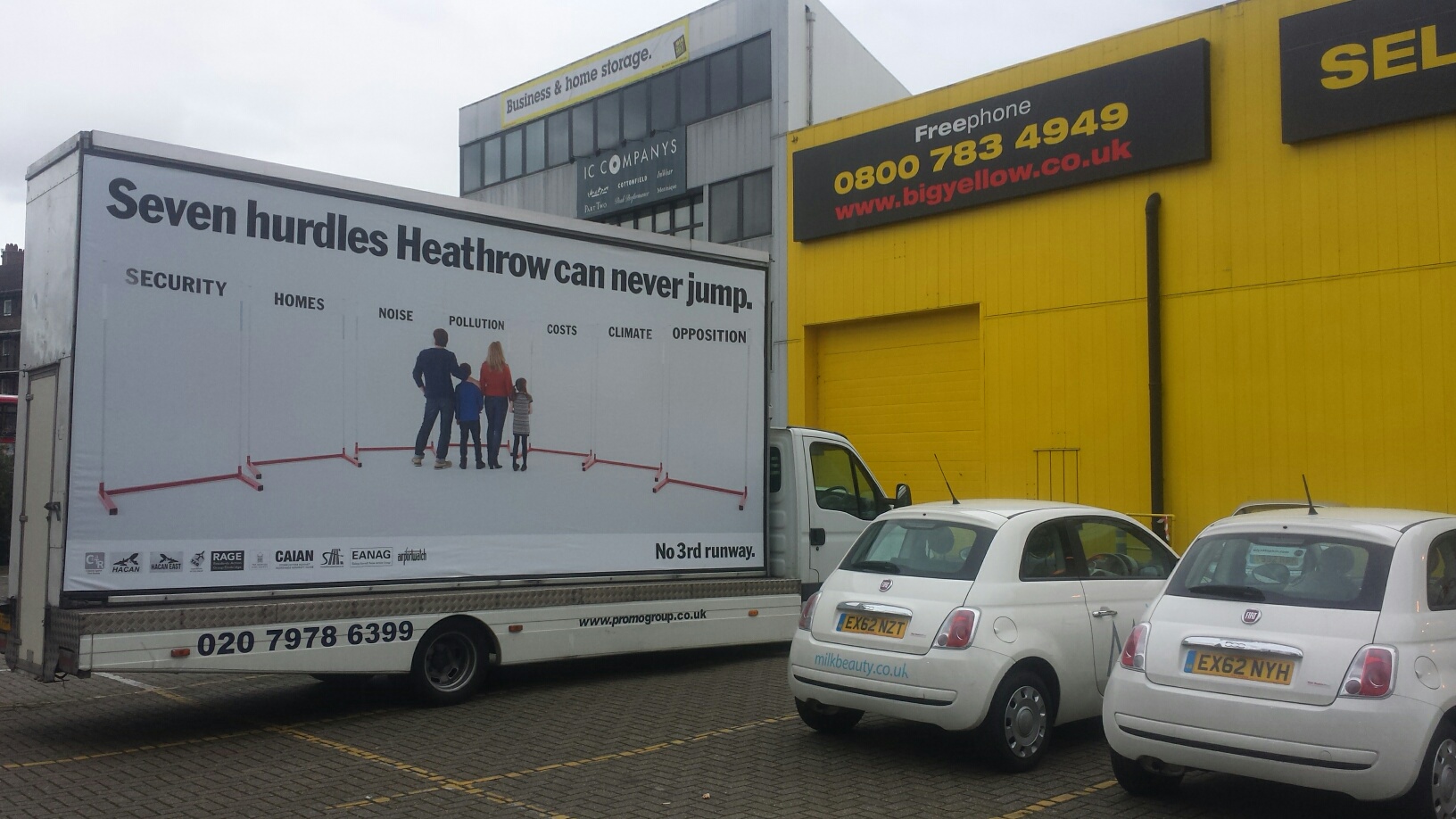 7 easy-to-read briefing sheets spelling out the 7 reasons why a 3rd runway cannot be delivered
READ: 20 Things To Know About A 3rd Runway

Download our Briefings in PDF format: Third Runway timeline, Third Runway at Heathrow FAQ
An independent Mori Poll shows that just 13.2% of Britons back a third runway at Heathrow.
Help us by joining our cause and helping the campaign against a third runway here.
Residents speak out
Watch one Sipson resident's plea for politicians to come to the villages to see where their decision will have most impact:
As Hacan's new YouTube series proves, residents across London and beyond are affected by Heathrow noise and the threat of expansion.
View the new video series in the player below, or click 'Playlist' to browse the collection
HACAN campaigns to stop further expansion of Heathrow and to cut the noise people hear from the existing airport. Find out more here.