HACAN gets more questions about flight paths than about anything else.  Where flight paths are, if flight paths change, are all-important to people.
Scroll down for latest news on flight paths
Explanation of flight paths
 If a 3rd runway is built almost certainly people in West London under the existing flight paths will lose part of the half day's break from the noise they currently enjoy. Some of the extra 700 planes using the airport will be on the existing runway – see more detail on our home page. 
Planes at Heathrow generally land and take off into the wind.  There is one exception to this at Heathrow.  When there is a light wind easterly wind blowing (less than 5 knots), operations continue as if a west wind was still blowing.
But note:  the critical thing in determining the direction the planes take is the direction of the wind at 3,000 ft (which might not be the same as on the ground).  See this presentation from the Met Office  http://www.heathrow.com/file_source/HeathrowNoise/Static/HCNF_Met_Office_Presentation.pdf
There are sites where you can track the planes.  But beware!  Some of them are not too accurate.  The best is Heathrow's own site, Webtrak,  http://www.heathrow.com/noise/what-you-can-do/track-flights-on-maps.  There is a 20 minute lag but is nearly 100% accurate.
Webtrack uses radar, which is pretty accurate, whereas  Flight Radar 24 information comes from data broadcast by the aircraft. which is not always accurate and some of it is also "crowd sourced", which means people have antennae on their roofs.
Landings
When planes arrive at Heathrow they are held in holding stacks.
There are four of these:
one over the Epsom area
one over the Biggin Hill area
one over the Epping area
one over the Chesham area
A plane circles round in a stack until it is given the green light by the air traffic controllers to make its way to Heathrow.
It is then guided on to its final approach path which it joins anything between 15 – 25 miles from the airport.
It will either land on the north or south runway.  Planes only usually land on both runways between 6am and 7am (the busiest hour of the day).
One week planes coming over West London will land on the northern runway until 3pm and then switch to the southern runway.  The next week it will be the other way round.
This is to give people living in the boroughs closest to Heathrow a half day's break from the noise.  People living between Heathrow and about Putney and Fulham benefit from this switch.
Sometimes, if delays are building up, Heathrow will land planes on the 'wrong' runway.
At the moment, when the wind is blowing from the east and planes are landing over Berkshire, no switch takes place and all planes land on the northern runway over Windsor.  But this is expected to end next year when something known as the Cranford Agreement is expected to be terminated.
In a typical year, the east wind blows just under 30% of the time.
So, if you are relatively close to the airport the flight path situation is pretty clear and these flight paths have been in place since the 1960s.
It's when you get further from the airport, that things get more complex.
The big change took place in the mid-1990s.  Before that, most planes joined their final approach path round about the Putney/Barnes area (if they were landing over West London).
From the mid-1990s aircraft were expected to join their final approach path up to 25 miles from the airport (around the Lewisham area).
In order to do this, aircraft were guided from the stacks in a trombone pattern rather than taking a more direct route towards Barnes.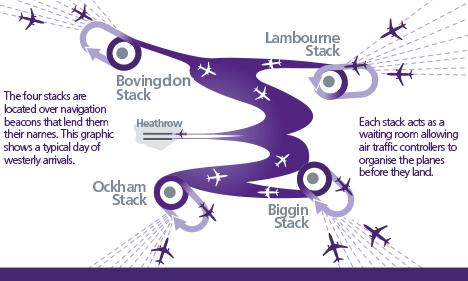 This 'trombone' method resulted in many areas, particularly in North, East and South-East London, getting many more planes than before.  When the east wind blows areas west of the airport are similarly affected. (diagram by Heathrow Airport)
Since then there has been no fundamental change in landing flight paths.
What does happen, though, is that air traffic controllers make incremental changes which can mean an increase in flights over particular communities.  The controllers are permitted to do this.
These changes are not always permanent.  But it does mean that there are places which get a lot of planes – for example, the Oval can be overflown by over 40 planes an hour.
Are any changes in the offing?
A third runway would mean changes.  These are not discussed here as it is unclear what they would be.
Departures
Except in one important way, the departures routes have not changed since the 1960s.
Departures follow what are known as Noise Preferential Routes (NPRs).  These are bands 3 kilometres wide.
The important change that has taken place in recent years in that new technology enables most aircraft to fly along the centre-line of the NPRs.  This has resulted in concentration of planes over particular communities.
HACAN would like to see more sharing out of the noise within the NPRs
Aircraft are allowed to leave the NPRs once they reach 4,000ft
More Recent Trials
In 2011/12 and in 2014 Heathrow and the air traffic controllers trialled new take-off procedures.  This resulted in some areas getting many more planes than they used to and some areas getting planes for the first time.
This caused much controversy.  Although the trials have now ended,  some people argue that things have not gone back to the way they were.  Independent study were commissioned by Heathrow to assess the 2014 .  These studies involved local community representatives from the areas affected.  They drew up the brief for the studies, appointed the consultants and oversaw the work.
The studies found that, with the exception of a change which air traffic controllers (NATS) made to one of the take-off routes, flight paths have gone back to the way there were: http://www.heathrow.com/noise/heathrow-community-noise-forum/flight-analysis 
Recent news
20/7/17:    Two separate studies will soon be underway looking at the impact of planes taking off more steeply from Heathrow.  Heathrow will soon commission work.  In parallel, the Civil Aviation Authority  will look at the climb rates at other UK and international airports and make recommendations in a report expected out in early 2018.
24/5/17:  Heathrow will start consultation on a fundamental review of its flight paths (whether there is a two or three runway airport).  For details, see our Home Page.
24/5/17: Respite Report:  The final results of the much anticipated respite report which Heathrow has commissioned from Anderson Acoustics will be available early Autumn.  The purpose of the report is to find out if people valued respite and, if so, what does meaningful respite look like.  The early headline findings are that there is strong support for respite; that, overwhelmingly, the type of respite people want, when given the choice, is a plane every couple of minutes followed by a complete break from the noise for a period of hours rather than planes spread across all flight paths all day long giving fewer aircraft at any one time but without any break. The research is the first of its type done anywhere in the world.
24/5/17:  Night Noise Research:  The Civil Aviation Authority will soon be publishing research into the levels at which people start to get annoyed by planes at night.  It is similar to the work they did on daytime noise which led the Government to recognise that people can become disturbed at much lower levels than previously accepted.
24/5/17:  Study into Steeper Climb Rates:  Heathrow is continuing with its study looking at how possible it is to get planes to take off more steeply and the implications of that for local communities (the greater thrust required to take off more steeply might result in more noise over certain communities).  This work will be done over the next year or so.
12/12/16:  December 2016:  Progress Report on Noise at Heathrow  Heathrow Airport has made a useful start in tackling noise problems over the last few years but, of course, more needs to be done.  This short report from HACAN outlines the progress:  http://hacan.org.uk/wp-content/uploads/2013/06/Heathrow-noise.pdf
16/9/16:  Heathrow's latest Blueprint for Noise Reduction contains welcome measures in the battle to cutnoise: http://www.heathrow.com/file_source/HeathrowNoise/Static/Heathrow_Blueprint_for_Noise_Reduction_2.pdf
5/7/16:  Reports on Respite.  Heathrow has commissioned a major study, expected to be published in Spring 2017, looking at the most effective way to introduce meaningful respite for more communities.  In July 2016 it published a preliminary study it carried out on respite: 2694_FinalReport_2-0_June 2016
23/4/16:  Fewer Late Departures at Heathrow.  Over the years there have been persistent complaints about planes taking off after 11.30pm – the cut-off point – in the evening.  Although the problem is still there, the situation has shown a marked improvement over the last couple of years.  Here is the latest information released: Late flights – WIN 15-SUM 16 Departing flights after 2330L for HACC
————————————–
2/4/16:  Last week Gatwick Airport accepted the recommendations of an independent report which outlined a new approach to flight paths. http://www.gatwickairport.com/globalassets/publicationfiles/business_and_community/all_public_publications/2016/gatwick—response-document-action-plan-final-31mar2016.pdf
These included looking to introduce multi-path approaches to share out the noise burden.  The devil of this scheme will lie in the detail and there will need to be changes from the routes suggested to avoid some areas getting both arrivals and departures.  But the change in the airport's attitude from just from a couple of years ago has been seismic.  It had changed routes with little or no regard for residents.  This provoked a backlash from some very well-healed areas.  The result has been that the airport has had to rethink it approach.
The Gatwick decision comes hard on the heels of a consultation from the Civil Aviation Authority suggesting new ways in which it oversees changes to flight paths which are more transparent and involve local people more closely.https://consultations.caa.co.uk/policy-development/proposals-for-revised-airspace-change-process/consult_view
HACAN has broadly welcomed the proposals in the  CAA consultation: my_response (2)
The CAA had been heavily criticized, including in a report it had commissioned from the consultants Helios, over the way it had been overseeing proposals for changes to flight paths.  For example, its decision to allow London City Airport to concentrate its flight paths has provoked outrage from residents, MPs and local authorities in the areas affected.  Our sister organisation, HACAN East, will be seeking to meet with the CAA over the decision.
—————————————–
26/2/16:  Heathrow publishes study into flight path changes that have taken place to the Compton Route near Ashford.
Heathrow has published some analysis today that concerns flight patterns over areas in close proximity to the south of the airport.  During the summer there was an increase in the number of residents from Ashford, Middx contacting us about flights using the Compton route during periods of easterly operations. Residents are concerned that there has been an increase in flights flying outside the departure route.
In comparison to Heathrow's other departure routes, the percentage of aircraft keeping within the prescribed 3km swathe (up to 4,000ft) of the Compton route is much lower than others (around 40% compared with 95% on other routes). The main reason for this is because the route involves a 180 degree turn which modern fleets find difficult to follow. In addition traffic departing on this route have to be tactically managed by NATS air traffic controllers to avoid the arriving aircraft from the holding stacks to the south.
The full report can be found at: Compton (easterly operations) flight analysis
—————————————-
Heathrow has commissioned independent research into how meaningful respite (i.e. predicable periods of relief from the noise) can be introduced more widely across London and the Home Counties.  It will be carried out during 2016 and published in spring 2017.
——————————————
Independent research commissioned by Heathrow Airport in conjunction with residents from the Community Noise Forum has revealed the reasons for increased noise on the take-off route over the Teddington/Twickenham areas:Full details of the report can be found at: http://www.heathrow.com/noise/making-heathrow-quieter/our-noise-strategy/working-with-local-communities/community-noise-forum/teddington-and-twickenham-flight-analysis# Further research looking at what changes have been made to this and other routes and will be available shortly.
—————————————–
HACAN joined other campaign groups on Monday 19th October 2015 to meet with senior officials at the Department for Transport to discuss flight path issues.  It was a constructive meeting covering a range of topics including concentration of flight paths and respite.  The groups will be meeting Aviation Minister Robert Goodwill in a few weeks to discuss the issues.
——————————————–
Heathrow has confirmed that over the next 18 months 80% of A320s to be retrofitted to stop the whine that disturbs many residents under or close to flight paths, particularly those some distance from the airport.
——————————————–
Heathrow is installing 20 new noise monitors, including more to measure noise of arrivals and more to measure the impact of departures further from the airport.
——————————————-
Trials are taking place of steeper descents.  Previously all planes landed at a 3 degree angle.  Heathrow is experimenting with a 3.2 degree angle.  In itself, this will make little difference to noise people on the ground hear but it is a small, bur significant step in the right direction.  If the trials go well, the airport will be looking to trial even steeper angles, particularly for areas further from the airport.