by John Stewart
Heathrow is not just a West London problem.  Just take a look at this map.  The big, fat green areas covers south east and north east London.  Hundreds of planes a day.  Typically, 70% of the year – the days the west wind blows. No respite.  And when the east wind blows, some of the areas find themselves under the concentrated flight paths to London City Airport.  It is hardly surprising that HACAN gets more emails each year from South East London than from anywhere else.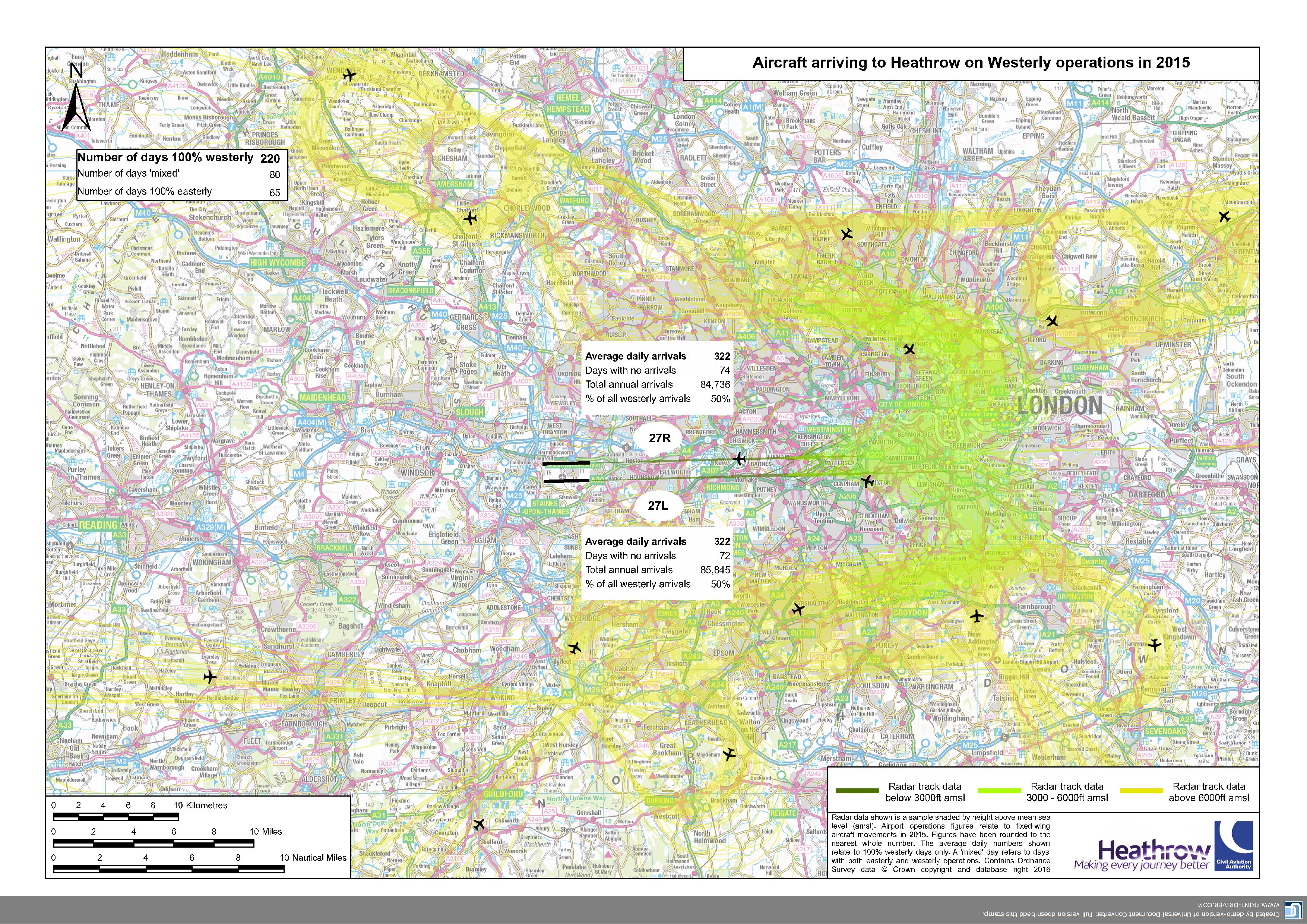 So, on 27th September at a public meeting in the shadow of the Oval HACAN South East was formed.  Initially, it will function as branch of HACAN.
We think it is timely because over the coming years there could be real opportunities to improve matters for residents in South East London.
Heathrow flight paths will be changing with or without a third runway.  It will be driven by Performance Navigation Technology (PBN) which enables aircraft to be guided more precisely.  This potentially gives residents what they have been calling for for many years: a break from the noise.  Some respite.
Heathrow backs the concept and will be publishing a report on respite shortly. So does the Government.  Respite is expected to be a key feature of the Department for Transport's new airspace policy, due out very soon.
Respite, where appropriate.  We are not saying it is necessarily the answer for every community everywhere in the country.  But we do believe it will give people back their lives in SE London.
And it can be done without aircraft moving to new areas.  Take another look at the green areas on the map.  Divide them into 4 lines.  Rotate those lines.  And you have got respite for existing communities, without impacting new people.
Towards the end of this year Heathrow will be publishing a consultation on the design principles which should inform its new flight paths.  We welcome the consultation and we will be repeating the 'r' word many times in our responses.
HACAN South East will also be pushing for steeper descents so the planes are higher over the area.  At present the aircraft are roughly 3,000 – 5,500 ft in height.  Raise them a couple of thousand feet and many people will be lifted out of the problem area.
That's not on the cards in the immediate future.  But we know that Heathrow is looking at a two-tiered approach whereby aircraft descend over SE London at a steep gradient (and thus are higher) before levelling off over West London so they can land safely at the airport.
Many residents in SE London complain bitterly about night flights.  They would like to see a full 8 hour break during the night.  Yet for the airlines that might be a step too far.  But we would argue that there is room for creative thinking about night flights despite the competing interests.
There is a lot of scope at night to vary the flight paths in areas as far from the airport as South East London so that for most weeks in the year any one area is not overflown.  We shall be exploring the possibilities with Heathrow and air traffic control.  Promises are being made that one of the conditions of a third runway will be a tougher night flight regime but we believe much could be done long before then that benefits residents but doesn't disbenefit the airlines.
Finally, London City aircraft have become a real problem since it concentrated its flight paths in February 2016.  Prior to that noise from London City was not much of a problem in most of SE London as the planes were spread out.  We will be working alongside our fellow campaigners in HACAN East to press for an end to the noise ghettos created by the London City concentrated flight paths.
Twenty years ago when aircraft noise from Heathrow became a real concern in South East London (because planes started joining their final approach to the airport much further east), the issue was not on the agenda of the Government, of Heathrow or indeed of HACAN.
The work done over two decades has put SE London's problems on the agenda.  The coming years could see solutions being put in place.  We believe that they are practical, realistic answers which will work for both residents and the industry.  HACAN South East will be campaigning for them to be introduced as soon as possible.