Verdict on 3rd runway legal challenge: 28th February
31/01/20
It has been announced that the High Court will deliver its verdict on the legal challenge brought by some local authorities and environment organisations, as well as the Mayor of London, on 28th February.  This is an appeal against an earlier court ruling which found decisively against the applicants.
Further Consultation on 3rd runway
7th January 2020
Heathrow has confirmed today it will put in a 3rd planning application this year but it will be preceded by an additional 8 week consultation (15th April- 11th June) as the work on the runway will take longer than expected because the Civil Aviation Authority has refused Heathrow to spend more money on a new runway not in advance of getting permission for it.  If it is given permission, it may now not open until 2028/29.
Details of the consultation: http://hacan.org.uk/wp-content/uploads/2020/01/HCNF_April_Targeted_Consultation_update_Jan_2020.pdf
Scroll down to see Timetable of Key Events
3rd Runway: not a done deal
Boris Johnson was careful to keep his options open during the recent General Election campaign.  The Conservative Party manifesto said this: "Parliament has voted in principle to support a third runway at Heathrow, but it is a private sector project. It is for Heathrow to demonstrate that it can meet its air quality and noise obligations, that the project can be financed and built and that the business case is realistic. The scheme will receive no new public money."
Flight Paths: our top topic
Flight paths are the top topic people search for on our site. For basic information, click on the side-bar or scroll down this page. We are always happy to answer your questions. Email johnstewart2@btconnect.com
You might be interested in our 2017 report on London's Most Overflown Boroughs (includes Heathrow and London City aircraft): report
Next steps on flight paths and runways
A lot of questions about what happens now to flight paths and runways following the major consultations this year.  We have drawn up a Layperson's Guide: guide
HACAN is lobbying for short-term action to improve noise and flight paths.  Read our report: https://hacan.org.uk/?p=5135
Have flight paths changed?
We get more emails and queries about this than anything else. The answer is that since 1996 there have been no formal changes.  But two things have happened.  Over the last decade or so departures have become increasingly concentrated down the centre-line of the Noise Preferential Routes (the three mile wide area they must stay in when leaving the airport) and the corridors used for arrivals have become more concentrated.  It means some areas are getting many more planes and others less.
Additionally, air traffic controllers are permitted to vary the number of planes over individual areas as they guide aircraft in and out of the airport. An increase in flights can also occur if there are more flights arriving from or departing yo particular destinations.
HACAN: giving a voice to residents
We are a regional body with thousands of members from Reading in the west to Greenwich in the east.  We aim to give a voice to residents under the flight paths.
Our objective: to campaign for a significant reduction in noise for all communities impacted by Heathrow
Our key campaigns 2019 – 2020
oppose a third runway
retain existing alternation in West London
meaningful respite – day and night – for all communities
a noise envelope that works for all residents
Heathrow and London City to coordinate their new flight paths
less concentration of current arrivals and departures
steeper landing and take-off procedures
oppose Independent Parallel Approaches
HACAN  sits on a number of bodies:
ANEG – the Government's national noise stakeholder board
Airspace Design Ministerial Group – chaired by the Aviation Minister, overseeing national plans for airspace changes
European Commission's Noise Expert Group
Heathrow Community Engagement Board
Heathrow's Strategic Noise Forum
Heathrow's Community Noise Forum
Heathrow's Noise Envelope Design Group
Our sister organisation, HACAN East, gives a voice to residents under London City flight paths.  Of course, a lot of people are under the flight paths to both Heathrow and London City. For more details on the vibrant campaign against the expansion plans of London City visit: www.hacaneast.org.uk 
Strong objection from Sadiq Khan, Mayor of London, to the expansion proposals in London City's Master Plan: http://hacan.org.uk/wp-content/uploads/2019/10/Robert-Sinclair.pdf
And from the local planning authority, Newham Council:  http://hacan.org.uk/wp-content/uploads/2019/10/LCY-Draft-Master-Plan-Consultation-Response-Letter_19.0226.PPPA_18.10.20….pdf
28th August 2019
Here is a great video HACAN East has produced and released today showing not only what it is like to live with London City – and Heathrow – planes flying overhead but also what possible solutions might look like: https://youtu.be/KAnKUlxg7EY
Timetable of Key Events
Mid-December 2018: Department for Transport launched consultation on its Aviation Green Paper. Closed 20th June.
8th January 2019: Heathrow consulted on stage 2 of its proposed new flight paths.  Consultation closed 4th March
Mid-March 2019: Legal challenges against third runway heard in the High Court.
April 2019:  Court rules against objectors but they have indicated they will seek leave to appeal – to be heard October 2019.
June 2019: Heathrow  launched its main consultation on its 3rd runway proposals, including its framework for managing noise. Closed September 2019.
Early 2020: Government expects to publish White Paper
Summer/Autumn 2020: Heathrow to present its 3rd runway proposals to a Planning Inquiry. Recommendation to the Secretary of State for Transport expected end 2021.
Summer 2020:  Heathrow to consult on Independent Parallel Approaches
2021:  Final consultation on new detailed flight paths expected
2026/9:  If all the hurdles are overcome, Heathrow expects to open new runway
London Assembly reaffirms opposition to 3rd runway
The London Assembly has once again come out strongly against a third runway.  Here it outlines 5 reasons why it believes expanding Heathrow is wrong:  https://medium.com/@thelondonassembly/five-reasons-why-the-expansion-of-heathrow-doesnt-work-for-london-a1f7eda15942
See the foot of this page for more information on the impact of a Third Runway
18 June 2019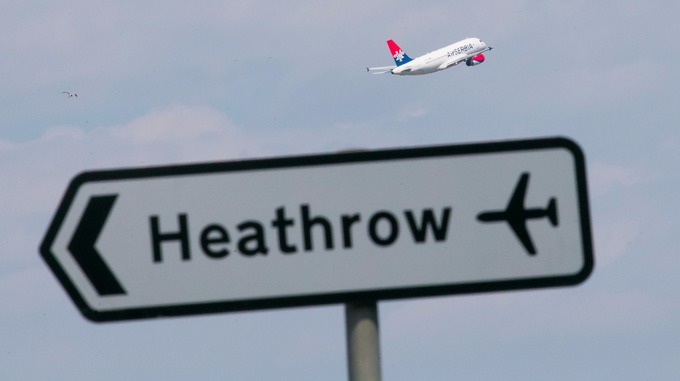 Heathrow  is planning the biggest change to its flights paths since it opened in 1946.  It will have a fundamental impact on residents.
Below is the latest information on flight paths:
We will not know the proposed new flight paths until 2022
Heathrow's major consultation on its flight path options closed on 4th March.
For more details on the proposals:  Heathrow Flight Path Consultation: January to March 2019: Details on consultation and responses  
The consultation its 3rd runway proposals, also now closed,  included further proposals on night flights, runway alternation and westerly preference as well as Heathrow's proposed noise envelope.
For details read the noise section of the HACAN Briefing
More flight path information:
You can find maps of flight paths on Heathrow's website: http://www.heathrow.com/noise/facts,-stats-and-reports/operational-data/annual-flight-maps
You can also track flights as they land and take-off: http://webtrak5.bksv.com/lhr4
And you can see what the flight pattern was like over your house during the past six years: http://xplane.bksv.com/xplane/
Check out our flight paths button for info about current flight paths and up-to-date developments, including some Heathrow initiatives to reduce the noise from planes in flight:  https://hacan.org.uk/?page_id=3311
Not just a West London problem – people relate their experiences on video of living with aircraft noise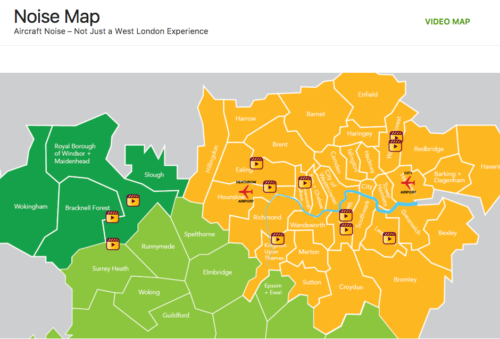 Click here to look at the videos: http://map.hacan.org.uk/
Heathrow still in a noisy league of its own
The numbers are taken from the latest noise action plans published by the UK airports in early 2019.
Many people are in despair about the constant noise over their heads.  95% of the emails HACAN gets contain a complaint are from areas which get no respite from the noise.  Read more here
Read why HACAN backs respite here
We also get a lot of questions about the metrics used to measure noise annoyance. A short HACAN paper explaining noise metrics.
And why Heathrow is using much better metrics to measure noise annoyance than before: click here
ExPlane is a new app to measure aviation noise which the public can use.  See here
The impact of a Third Runway
A new runway at Heathrow would mean just over 700 extra flights each day.  A total of 760,000 planes would use the airport.  Currently there is an annual cap on  flight numbers of 480,000.  A third runway would mean people in West London under the existing flight paths will lose part of the half day's break from the noise they currently enjoy. It would of course also mean many people under an arrivals or departure runway for the first time. On March 21st 2017 a new coalition was launched to oppose a third runway at Heathrow.  The No 3rd Runway Coalition consists of 18 organisations and is backed by MPs, peers and local authorities.
See reports section for third runway related reports and briefings: https://hacan.org.uk/?p=5024
Our Flickr page has great photos of pictures of campaigning  events – check it out to see the range of protests that have been taking place