A Flight Path Revolution
Heathrow is planning the biggest change to its flights paths since it opened in 1946.  It will have a fundamental impact on residents.  Scroll down to 'Major Heathrow consultation launched today' 
A Positive Programme for Change'
At its Annual General Meeting last night (10th October) HACAN confirmed its continuing opposition to a third runway but also launched its 'positive programme for change' designed to get short and medium improvements to the noise climate for residents whether or not a new runway is built. The key elements are below.
Key HACAN Campaigns 2018-20
 A tough night flight ban
 Retain existing runway alternation in West London
 Respite for all communities
 Shape Heathrow's new flight paths
 Less concentration of current arrivals & departures
 Steeper landing and take-off procedures
 World-class compensation
 Meaningful metrics
You can read more about our campaigns in this glossy 4 pager: http://hacan.org.uk/wp-content/uploads/2018/10/HACAN-Strategy-2018-2020.pdf
HACAN – lobbying on your behalf
In addition to our more visible campaign activities, HACAN is an increasingly influential voice on a number of bodies set up by Heathrow or the Government.  We sit on Heathrow's Strategic Noise Forum and its Community Noise Forum.  We have a seat on the new Community Engagement Board (CEB)* which will hold Heathrow to account on the running of the airport (including key matters like noise and flight paths) as well as oversee Heathrow consultation process if it gets permission for a new runway.   We sit on ANEG, the Airspace and Noise Engagement Board recently set up by the Department forTransport:  https://www.gov.uk/government/groups/airspace-and-noise-engagement-group  Our chair is a member of the European Commission's Noise Expert Group and HACAN is a member of UECNA, the Europe-wide body which represents community groups around the key European airports: http://www.uecna.eu/
Timetable of Key Events
Mid-December 2018:  Department for Transport to launch a 16 week consultation on Green Paper about its new aviation strategy.
8th January 2019:  Heathrow expected to consulted on stage 2 of its proposed new flight paths
Mid-March 2019: Legal challenges against third runway will be held in heard in the High Court
June 2019:  Heathrow expected to launch its main consultation on its 3rd runway proposals
Major Heathrow consultation launched today
8th January 2019
Heathrow Airport launched a major public consultation today.  It runs for 12 weeks until 4th March.
Key Points:
Runway alternation in West London will be cut from half a day to a third of the day to allow for alternation on a third runway if it is built.  The consultation is asking for views on how this should be implemented.
Significant changes to airspace are proposed to allow for vast swathes of London and the Home Counties, which currently get all-day flying, to get respite from the noise for the first time.  It applies to both arrivals and departures.
And here is the response of our sister organisation HACAN East: http://hacan.org.uk/wp-content/uploads/2019/02/Heathrow-Consultation-response-from-HACAN-East.pdf
For a 2 page summary of the runway alternation and respite proposals click: http://hacan.org.uk/wp-content/uploads/2019/01/Heathrow-Consultation-briefing-arrivals-runway-alternation-and-respite-1.pdf 
For a 1 page summary on the departure proposals click:  http://hacan.org.uk/wp-content/uploads/2019/01/Heathrow-Consultation-briefing-departures-1.pdf
The night period when there are no scheduled flights allowed will be extended from 5 hours to six and a half hours.  Views are sought on how this should operate.
For a 1 page summary of the night flight proposals click:  http://hacan.org.uk/wp-content/uploads/2019/01/Heathrow-Consultation-briefing-night-flights.pdf
Views are sought on whether 'westerly preference' should remain – this is where planes continue to fly as if a west wind is blowing when there is an east wind (of up to 5 knots)
For a 1 page summary on the westerly preference proposals click: http://hacan.org.uk/wp-content/uploads/2019/01/Heathrow-consultation-briefing-westerly-preference.pdf
Heathrow is proposing to bring in 25,000 extra flights a year in the years running up to the opening of any third runway.  Some of these flights will use new dedicated flight paths called Independent Parallel Approaches.
For a 2 page summary of Independent Parallel Approaches click:  http://hacan.org.uk/wp-content/uploads/2019/01/Independent-Parallel-Approach-briefing.pdf
The full Heathrow document is here: http://hacan.org.uk/wp-content/uploads/2019/01/Heathrow-Airspace-and-Future-Operations-Consultation-document-Final-low-res.pdf
Here's a link to where and when the Heathrow consultation exhibitions will take place: http://afo.heathrowconsultation.com 
Here's a powerpoint we have put together highlighting how different areas could be affected by the consultation proposals:  http://hacan.org.uk/wp-content/uploads/2019/02/Heathrow-Airspace-Consultation.pdf
Heathrow has just announced (25/1/19) additional consultation events to be hosted by the constituency MPs: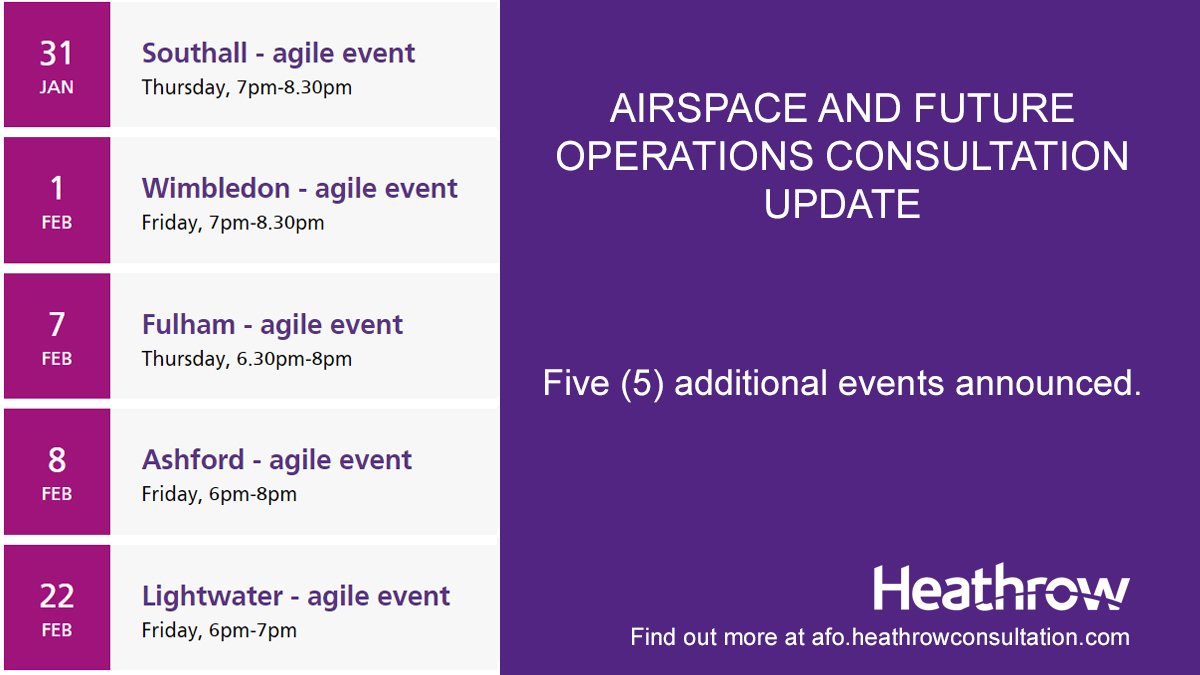 This includes the event Greg Hands MP has organised in his constituency on Thursday 7th February between 18:30-20:00 at All Saints Church Hall, 70a Fulham High Street, Fulham, SW6 3LG.
A Public Meeting on Heathrow Airspace changes: 12th February, 7pm, Christ Church, Town Hall Ave, Chiswick.  Speakers will include leader of Hammersmith Council Steve Cowan, Andy Slaughter MP, Rupa Huq MP and Ruth Cadbury MP.  This meeting has been organised by campaign groups.  It is not thought Heathrow has been invited.
Vicky Foxcroft, the MP for Lewisham Deptford has organised a meeting  on Thursday 21st February, 1830-2000  at Narthex room at Telegraph Hill Centre, Kitto Rd, London SE14 5TY (Note: this is a provisional date: we'll post a confirmation when we get it) Heathrow will be present
On 27th February Zac Goldsmith MP has organised a Public Meeting: Duke St Church, Duke Street, Richmond, TW9 1DH, 7pm.  Heathrow will be present
On 28th February, the local Brentford and Hounslow group, BASH, has organised a Public Meeting in Nishkam School, 7-9pm, 152 Syon Lane, Tw7 5PN.  Ruth Cadbury MP will be amongst the speakers.  Heathrow will not be present.
Here is a link to a 4 page summary which might help you navigate the consultation: http://hacan.org.uk/wp-content/uploads/2019/01/Heathrow-Consultation-summary.pdf
Here is the way the proposals could impact East and NE London:  http://hacan.org.uk/wp-content/uploads/2019/01/HACAN-East-Heathrow-Consultation-East-London.pdf
Here is the way the proposals could impact SE London: http://hacan.org.uk/wp-content/uploads/2019/01/Heathrow-Consultation-briefing-SE-London.pdf 
Aviation Green Paper Published
17th December 2018
'Aviation 2050: The future of UK aviation' – key points
On December 17th the Government published its Green Paper with proposals for its new aviation strategy which it will finalise and release in the second half of 2019.  It is an important document.  It sets out proposals for UK aviation policy until 2050.
There will be a 16 week consultation ending on 11th April 2019
Link to the full paper:  https://aviationstrategy.campaign.gov.uk
There's also a NATS paper on the new type of flight paths being introduced: https://assets.publishing.service.gov.uk/government/uploads/system/uploads/attachment_data/file/763085/nats-caa-feasibility-airspace-modernisation.pdf
And a CAA paper on past and future noise levels:
http://publicapps.caa.co.uk/docs/33/CAP%201731%20Aviation%20Strategy%20Noise%20Forecast%20and%20Analyses.pdf
In summary:
The Green Paper sets out to cater for the significant growth in flying it predicts will take place in the UK and around the world.
It argues that this growth can take place without exceeding the UK's aviation climate targets.
It assumes a third runway will be built at Heathrow
It contains some welcome noise proposals that campaigners have been lobbying for over many years.
It lays describes the implications of the move from ground-based technology to satellite technology when designing flight paths
It sets out measures to improve and monitor air pollution from aircraft
Read more in the 3 page summary HACAN has put together:  http://hacan.org.uk/wp-content/uploads/2018/12/Green-Paper-summary-four.pdf 
We have also produced a longer commentary on the Green Paper:  http://hacan.org.uk/wp-content/uploads/2019/01/Green-Paper-summary-longer-version.pdf
Here is a short paper to help you with your response:  http://hacan.org.uk/wp-content/uploads/2019/01/Green-Paper-pointers-for-a-response.pdf
And read our blog why limiting the numbers of planes going over our heads is so important: http://hacan.org.uk/wp-content/uploads/2018/12/Blog-aircraft-number-matter.pdf
New WHO Guidelines tougher on aircraft noise
10th October 2018
The new noise guidelines from the World Health Organisation, published 10th October 2018, are tougher on aircraft noise than previously.
Recommended Limits
Road                            53Lden                        45Lnight
 Rail                              54Lden                        44Lnight
 Aircraft                      45Len                          40Lnight
 Wind Turbines        45Lden         no recommendation
Our view this a strong message to Heathrow as it develops its new flight paths that aircraft noise problems are not confined to areas close to the airport.  The guidelines indicate that aircraft noise can affect the health of people living well over 20 miles from Heathrow.  They are of course just guidelines, not intended to be implemented overnight, whose main purpose is to indicate the levels at which noise can become a health problem.
For more details, see the HACAN press release:  http://hacan.org.uk/wp-content/uploads/2018/10/WHO-new-noise-guidelines-Press-Release.pdf 
Full WHO report: http://www.euro.who.int/__data/assets/pdf_file/0008/383921/noise-guidelines-eng.pdf?ua=1
We have done a plain person's guide to the WHO report: http://hacan.org.uk/wp-content/uploads/2018/10/Plain-Persons-Guide-to-WHO-report.pdf
We explore the WHO findings of when people are most likely to become highly annoyed by aircraft noise:  http://hacan.org.uk/wp-content/uploads/2018/10/WHO-new-aircraft-levels-assessed.pdf
We suggest measures which could cut aircraft noise: http://hacan.org.uk/wp-content/uploads/2018/11/Turning-the-WHO-report-into-action.pdf
A short HACAN paper explaining noise metrics:  http://hacan.org.uk/wp-content/uploads/2018/11/Metrics.pdf
Why Heathrow is using much better metrics to measure noise annoyance than before: http://hacan.org.uk/wp-content/uploads/2018/11/Metrics-Heathrow.pdf
A new noise app available
ExPlane is a new app to register aviation noise Available for Android en iOS via Google Play and App Store. The app registers time, date, location, noise levels and flight number of the plane that causes the noise above your head. See https://explane.org/ 
Heathrow's first round of consultation on new flight paths approved
October 2018
The Civil Aviation Authority (CAA) has approved Heathrow's first round of consultation on its new flights paths (it consulted on the design principles for them – see story below).  It leaves Heathrow free to consult on the second stage in January 2019.  This will be on design envelopes (the broad areas where the flight paths will be).  The consultation on the detailed flight paths is unlikely before 2021.
Heathrow rules out all-day concentrated flying on its new flight paths
19th September 2018
On 19th September Heathrow published the results of the first round of its consultation into new flight paths.  The consultation, held earlier this year, asked people about what principles should be followed when the airport designs its new flight paths.  Most people wanted respite and sharing out of the noise.  Many said new areas should not be impacted.  The least popular option was all-day flying concentrated over a few communities.  The theme running through Heathrow's report is that it will aim to share the noise around and provide respite.  It has ruled out concentrated all-day flying.  At HACAN we welcome this and take some credit for it as we have been campaigning for this for over a decade.
The full report can be read here: https://b9kdp3cmc3m1gtje53fj9gdn-wpengine.netdna-ssl.com/wp-content/uploads/2018/09/Heathrow-Airspace-Design-Principles-Submission.pdf
Heathrow: timetable for flight path changes
Even if Heathrow stays as a two-runway airport Heathrow will be re-jigging its flight paths 'starting from a blank piece of paper'.  This is because across the world Precision-Based Navigation (PBN) is being introduced.  The flight path changes – the biggest since the airport opened in 1946 – are being driven by the worldwide move from ground-based to satellite-based technology.  It enables planes to be guided more precisely saving the airlines fuel, cutting CO2 emissions, allowing air traffic control to run a slicker operation with fewer staff and giving airports more resilience (critical at a busy airport like Heathrow).
In practice, PBN involves concentrated flight paths.  In America a lot of the airports simply use one long flight path for each runway, creating noise ghettos and generating a record number of complaints.  London City has done the same.  Heathrow is looking to introduce multiple flight paths wherever possible in order to give people relief – essential if local communities are also to get some benefits from the new system.
The Timetable
Heathrow, in consulting on its flight paths, has decided to assume a third runway will get the go-ahead.   But the risk it is taking is minimal because the early consultation will be on the design principles behind flight paths which will be applicable whether or not Heathrow becomes a three runway airport.
Early 2018: There was a 12 week consultation on the design principles people want to see flight paths based on.  Do people want multi-flight paths etc?  This will form the first stage of Heathrow's airspace changes.
Early 2019: There will be a consultation on the design envelope for the new flight paths.  The envelopes will show the broad swathes within which there will be flight paths.  They will not include at the exact alignment of the flight paths but those who will be outside the swathes will know they will not be under a flight path.
Middle of 2019: Heathrow expects to submit its Development Consent Order (covering all aspects of a third runway; not just flight paths) to a Planning Inquiry.
Middle of 2020: Heathrow expects to get a decision from the Planning Inquiry on whether it can proceed with a third runway.
Late 2020/early 2021: The detailed flight paths options will be consulted upon.
Where to find current and past flight paths
You can find maps of flight paths on Heathrow's website: http://www.heathrow.com/noise/facts,-stats-and-reports/operational-data/annual-flight-maps
You can also track flights as they land and take-off: http://webtrak5.bksv.com/lhr4
And you can see what the flight pattern was like over your house during the past six years: http://xplane.bksv.com/xplane/
Check out our flight paths button for up-to-date developments:  http://hacan.org.uk/flight-paths-explained/
Hig
h Court allows 3rd Runway legal challenges to go to full hearing
4th October 2018
On 4th October the judge in the Courts of Justice ruled that 5 of the 6 of challenges to Parliament's decision to back a 3rd Runway can go to a full hearing.  The one that was dropped was an individual in Birmingham.  The cases will be held over a 2 week period in March next year.   Elements of the cases he can combine to avoid duplication.
The four main challenges are from are from Hillingdon, Wandsworth, Richmond, Hammersmith & Fulham and Windsor & Maidenhead, backed by Greenpeace and the Mayor of London; the one from Heathrow Hub.  and challenges from Friends of the Earth and Plan B, both on climate change.  The fifth is from an individual based in SW London.
This ruling does not of course stop Heathrow preparing and consulting on its plans for a third runway.
Heathrow's 3rd Runway Timetable
Assuming it is not derailed by any of the legal challenges, Heathrow intends to consult on its detailed plans for a third runway in 2019 before presenting its plans to a public inquiry in 2020.  The public inquiry by law cannot last more than 6 months and will largely rely on written evidence.  It is likely to make a recommendation to the Secretary of State for Transport in 2021.  If the Secretary approves the detailed plans, Heathrow aims to open the new runway in 2015.
The impact of a Third Runway
A new runway at Heathrow would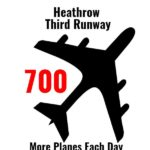 mean just over 700 extra flights each day.  A total of 760,000 planes would use the airport.  Currently there is an annual cap on  flight numbers of 480,000.
West London will lose some of its alternation
If a 3rd runway is built almost certainly people in West London under the existing flight paths will lose part of the half day's break from the noise they currently enjoy. Some of the extra 700 planes using the airport will be on the existing runway.
Can a three runway Heathrow, with 700 more planes a day, be quieter than the airport is today?  Check out the HACAN blog: http://hacan.org.uk/blog/?p=542
 Scroll down for 3rd runway briefings & campaigning.
New Poll reveals mixed views on 3rd runway
21st September 2018
A new poll from Populus, commissioned by Heathrow and released by them on 21st September,  reveals mixed views on the third runway.
The results are not disimilar to the ones Populus has done over the years.  HACAN has been critical of the methodology Populus use and took legal advice on challenging them.  The lawyers felt that Populus were not doing anything illegal although some of their questions bordered on being leading questions.  With that in mind support for a 3rd runway may be few percentage points lower than they claim but their broad findings are consistent with other polls.
Heathrow still in a noisy league of its own
Updated figures of the numbers impacted at UK airports taken from the airports' own draft Noise Action Plans which they consulted on this year. 
South East London – No Respite  from aircraft noise
13th August 2018 
HACAN today (13/8/18) is pleased to publish an important report by Forest Hill resident Tim Walker outlining what happens when London City and Heathrow airports combine to create community noise hotspots in south east London
Using London SE23 as an example, the paper aims to make clear to policymakers, campaigners and the two airports what the problems for communities are with the introduction of concentrated flight paths (City Airport) and separate development of the two London airport flight paths.
Noise from arriving London City Airport aircraft combined with departing and arriving Heathrow aircraft blights thousands of south east London homes, with no respite.
City Airport's low altitude air superhighways, beginning in Feb 2016, have resulted in a perfect storm of aircraft noise for many SE London residents.
Respite means scheduled relief from aircraft noise for a period of time. There are community noise hotspots in SE London that receive no respite from 6.30am to 10pm nearly every day of the year.
Read the full report:  http://hacan.org.uk/wp-content/uploads/2018/08/No-aircraft-noise-respite-for-London-SE23-August-2018.pdf
Aircraft noise a problems in Sevenoaks?
Read on…..http://hacan.org.uk/wp-content/uploads/2018/10/Sevenoaks-Snapshot.pdf
Major new departures report from CAA
27th July 2018
The Civil Aviation Authority published a major report on 27th July into departures from Heathrow Airport.  It was largely done in response to complaints from local people than aircraft have become louder and lower.
Key findings:
'A gradual decrease in average aircraft heights over recent years' but 'lower heights have not lead to overall noise increases' because most planes have become quieter.
The take-off procedures can vary from airport to airport but the noise on the ground from aircraft departing Heathrow differs little from that at comparable airports
The rate of climb of the A380s is much the same as at other airports.
If planes use a steeper departure procedure a). they reduce the noise for people right under the flight path but increase for those to the side but b) they increase the duration of the noise for everybody.
The report is packed with other useful information but note it concentrates on heights and noise.  It doesn't deal in any depth with other causes of noise such as increased concentration or a rise in flight numbers.
Read HACAN's assessment of the report:  http://hacan.org.uk/wp-content/uploads/2018/07/Blog-CAA-Report.pdf
Read the summary:   https://publicapps.caa.co.uk/docs/33/20180719%20CAP1691a%20Departure%20Noise%20Mitigation%20Summary%20Report.pdf
Full report:  https://publicapps.caa.co.uk/docs/33/CAP1691%20Departure%20Noise%20Mitigation%20Main%20Report.pdf
Most people favour respite
Heathrow's consultation on the principles it should use in designing its new flight paths showed most people backed respite.  54% wanted the priority to be respite even if that increased the total number overflown; 25% wanted the priority to be to prevent new areas being overflown (that included most respondents not currently overflown); any only 22% backed minimising the total number overflown by concentrating all the flights over certain areas.  (Some backed more than one option which is why the don;t add up to 100%).
You can reading about further findings here:   https://files.acrobat.com/a/preview/95fcb6e4-d297-4678-9a08-3a819f0529d9
Heathrow's consultation took place earlier this year.  It will come up with more detailed proposals for flight paths, based on the design principles the public backed, next year.   Heathrow's flight paths will change whether or not a 3rd runway is built.  Scroll down for further info on flight path changes.
Big majority of MPs back 3rd Runway
25th June 2018
The Government got a majority of 296 after the debate in Parliament last night (25th June) on a third runway.  It now officially becomes Government policy.
In total 415 MPs backed it; 119 opposed.  119 Labour MPs backed it; 94 opposed (Labour MPs were given a free vote).  The Conservatives imposed a 3 line whip: 8 MPs defied the whip and voted against: Justine Greening, Greg Hands, Adam Afriyie, Sir David Amess, Bob Blackman, Zac Goldsmith, Matthew Offord and Theresa Villiers.  The SNP abstained on the grounds that the guarantees of more flights to Scotland weren't firm enough.
What happens now:
The local authorities, backed by the Mayor of London and Greenpeace, are preparing a legal challenge. They have six weeks to submit it.  Heathrow Hub will also mount a legal challenge.  The courts would be expected to hear the cases in the autumn.
Heathrow will start drawing up its detailed plans for the new runway.  This is part of the DCO (Development Consent Order) process.  These plans will be consulted next year with a view to going before a Planning Inquiry in 2020.  Heathrow would be looking to get final permission in 2021, with a view to opening the new runway in 2025.
HACAN initial reaction:
The majority was a little higher than expected.  We had been expecting majority of around 250.
With a majority of 296 the Government will feel they have a strong mandate to build the runway.
There has been little change in the position of MPs over the last two years.  In 2016 (in advance of the Government's autumn 2016 announcement of its preferred runway option) HACAN spent £10,000 lobbying MPs.  The indications then were that just over 300 MPs would back a third runway.
Heathrow will be relieved that more Labour MPs backed a third runway than opposed, lessening their fears that a Corbyn Government would be able to overturn the decision
The SNP played it very cleverly.  They knew it would be safe to abstain as the third runway, which they back, would go through but by abstaining retained their position of never having voted with the Conservatives since 1979 (important for public consumption in Scotland) and put pressure on the Government to firm up the guarantees to Scotland on flight numbers.
The Government and Heathrow will be under pressure to deliver on the conditions (such as a tougher night flight ban; respite for more communities) which may be made more stringent during the DCO process.  This was repeatedly mentioned by MPs both for and against a third runway in the debate and the lack of firmer guarantees was the reason why Lilian Greenwood, the respected chair of the Transport Select Committee, voted against the Government.
There remain doubts if Heathrow can overcome sheer logistics involved building the new runway
Cabinet backs 3rd Runway
5th June 2018
On 5th June the Cabinet backed a 3rd runway at Heathrow.  Parliament will now vote on the Airports National Policy Statement, which contains the plans for a third runway, with 21 days.  If it supports the new runway, it becomes Government policy, though some local authorities are expected to challenge the decision in the courts.
Link to the full NPS:
https://assets.publishing.service.gov.uk/government/uploads/system/uploads/attachment_data/file/713354/airports-nps-new-runway-capacity-and-infrastructure-at-airportsin-the-south-east-of-england-web-version.pdf
DfT Summary of the NPS:
https://assets.publishing.service.gov.uk/government/uploads/system/uploads/attachment_data/file/713661/proposed-expansion-of-heathrow-summary.pdf
Chris Grayling's Statement to Parliament:
https://www.gov.uk/government/speeches/proposed-heathrow-expansion
On the same day, the Government published its detailed response to the Transport Select Committee's report on the NPS:  https://assets.publishing.service.gov.uk/government/uploads/system/uploads/attachment_data/file/713654/government-response-to-the-transport-committee-report-on-the-revised-draft-airports-nps-web-version.pdf
HACAN, along with Campaign for Better Transport, Friends of the Earth and Greenpeace, produced this short report arguing that the 3rd runway doesn't meet Labour's four tests:  http://hacan.org.uk/wp-content/uploads/2018/06/Labours-four-tests.pdf
Scroll down for more information on 3rd Runway
Campaigners Flight Path Conference
16th June 2018
A selection of campaigners who came from airports across the UK to discuss flight paths and flight path changes in York on 16th June 2018.
Heathrow Noise Action Plan
The consultation on Heathrow's noise action plan for the years 2019 – 2023 has now ended.  It now goes to Government for approval.
London City Action Plan
London City has published its draft Noise Action Plan.  It final version will also require Government approval.
You can read the draft here:  https://www.londoncityairport.com/corporate/noise-and-track-keeping-system/noise-action-plan
You can read the response from HACAN East:   http://hacan.org.uk/wp-content/uploads/2018/08/London-City-Noise-Action-Plan-response-from-HACAN-East.pdf
Community Engagement Board
Rachel Cerfontyne has been appointed as the first chair of the new Community Engagement Board.  She spent her early years in Feltham, started life as a social worker and has over twenty years' experience in leading public sector and charitable organizations.  Her most recent role was as Deputy Chair of the Independent Police Complaints Commission, where she oversaw their two largest investigations: the Hillsborough Disaster and the Rotherham Child Sexual Abuse scandal.
Commenting on her appointment, Rachel Cerfontyne said:
"My highest priority is getting out and about, meeting people in the local communities and hearing their views. I am keen to listen and learn and to ensure that the membership and activities of the HCEB are shaped by the key stakeholders, especially Heathrow's closest neighbours. I've already started meeting with local community representatives and over the coming weeks and months look forward to engaging formally and informally from all who have a view on and a relationship with the airport."
The Community Engagement Board replaces the Consultative Committee.  It has taken over the function of the Consultative Committee of holding Heathrow to account on day to day matters but will have the additional function of holding the airport to account as it consults on its detailed plans for a third runway.
Government's Developing Aviation Strategy: Next Steps
7th April 2018
On 7th April the Government published a substantial document outlining the next steps in the development of its aviation strategy. It also includes the responses to the earlier consultation on the first stage of the strategy.  Here's the press release https://www.gov.uk/government/news/government-puts-consumers-at-heart-of-the-aviation-industry and here's the full report:  https://assets.publishing.service.gov.uk/government/uploads/system/uploads/attachment_data/file/697994/next-steps-towards-an-aviation-strategy.pdf
What happens next:
The Government will hold roundtables and workshops leading to putting out a Green Paper in the Autumn for consultation with as new Aviation Strategy published in 2019.
The Green Paper will ask for views on its six key themes:
help the aviation industry work for its customers
ensure a safe and secure way to travel
build a global and connected Britain
encourage competitive markets
support growth while tackling environmental impacts
develop innovation, technology and skill
On noise today's document says on page 66:
Policy options that the government intends to explore include setting noise targets and aviation specific air quality targets; strengthening noise controls and enforcement of these controls; strengthening incentives to bring forward production and operation of quieter aircraft; enhancing compensation for those exposed to significantly increased levels of aviation noise in the airspace change process, and the use of other types of mitigation where noise reduction is not possible.
HACAN launches major new study
3rd April 2018
Today (3rd April) HACAN has launched a major new study which reveals the extent of the aircraft noise problem in South East London.  Corridors of Concentration, published in conjunction with Plane Hell Action, a local group based in SE London,  has revealed a dramatic increase in the number of flights over many areas of South East London in recent years.  It also found that flight paths have become more concentrated.
Over a dozen areas from Clapham Common in the west to Greenwich in the east were surveyed.  The number of aircraft audible from each location was recorded.  Key counts were verified by the Civil Aviation Authority (CAA).
The overall number of flights is much the same as when we last surveyed the area 10 years ago but this masks significant changes in certain places.  Particularly dramatic was the increase in the number of flights in the far east of the region has increased dramatically: daily flights in the Brockley corridor grew by 135 between 2011 and 2017; Greenwich saw an increase of 165 a day.
The study concluded many more planes are joining their final approach corridors further east than before and are more concentrated within those corridors.   
Read the study:  http://hacan.org.uk/wp-content/uploads/2018/04/Corridors-of-Concentration-Report.pdf
When people get annoyed by noise
The findings of the new HACAN study are supported by SONA, a study the Government commissioned from the Civil Aviation Authority (CAA): Survey of Noise Attitudes 2014. SONA found that people start to get annoyed by aircraft noise at lower levels than previously officially recognised.  This is reflected now in the Government's Airspace Strategy which recognised that people can get annoyed by aircraft noise when it averages out over a 16 hour day at 54 decibels.  Previously government argued it was 57 decibels. Some people get annoyed at even lower levels.
The chart above, taken from the study, compares the results of the Government sponsored 1982 ANIS Study with the new SONA study.  SONA found  9% of people are highly annoyed when the average is 54 decibels.  In geographical terms around Heathrow that goes as far as about Clapham to the east and about 16 miles to the west: about 65,000 people in total.  The lower average of 51% extends about as far as Peckham.
The full study  http://publicapps.caa.co.uk/docs/33/CAP%201506%20FEB17.pdf
Not just a West London problem

– people relate their experiences on video of living with aircraft noise.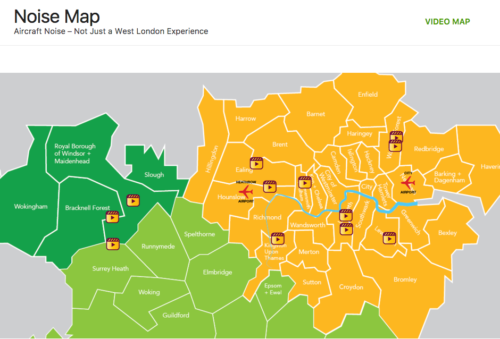 Click here to look at the videos: http://map.hacan.org.uk/
Transport Select Committee backs 3rd Runway but with challenging conditions
23rd March 2018
The Transport Select Committee Report into the National Policy Statement (NPS) on Airports (essentially, the 3rd runway at Heathrow) has been published today (23rd March).  The report backs a third runway at Heathrow but has come up with some challenging conditions including tougher air pollution targets and a 7 hour night flight ban.  The Government will respond to the Committee in a few weeks time.  It doesn't need to accept the conditions but the Committee warns that unless it does it could leave the NPS open to a legal challenge.  A Parliamentary vote is still expected in the summer.  If Parliament backs a 3rd runway, it becomes official Government policy.  Heathrow then has the task of drawing up and consulting on the detailed plans before presenting them to a planning inquiry.
Read the Report:
https://publications.parliament.uk/pa/cm201719/cmselect/cmtrans/548/54803.htm   summary
https://publications.parliament.uk/pa/cm201719/cmselect/cmtrans/548/54804.htm  conclusions and recommendations
https://publications.parliament.uk/pa/cm201719/cmselect/cmtrans/548/54802.htm  the full report
And a summary of key points HACAN has put together: http://hacan.org.uk/wp-content/uploads/2018/03/Transport-Select-Committee-NPS-Report-Key-Points.pdf
Respite Report launched
16th February 2018
Heathrow published its long-awaited respite report commissioned from Anderson Acoustics on 16th February.  It is the first of its kind to be done.  HACAN was part of the steering group.  Summary video: https://youtu.be/7Z5mt7rKJgA . Where to find the reports: https://www.heathrow.com/noise/making-heathrow-quieter/respite-research
The importance of respite:  scroll down
Third Runway campaigning and briefings
Mayor of London Backing No Third Runway
13th May 2017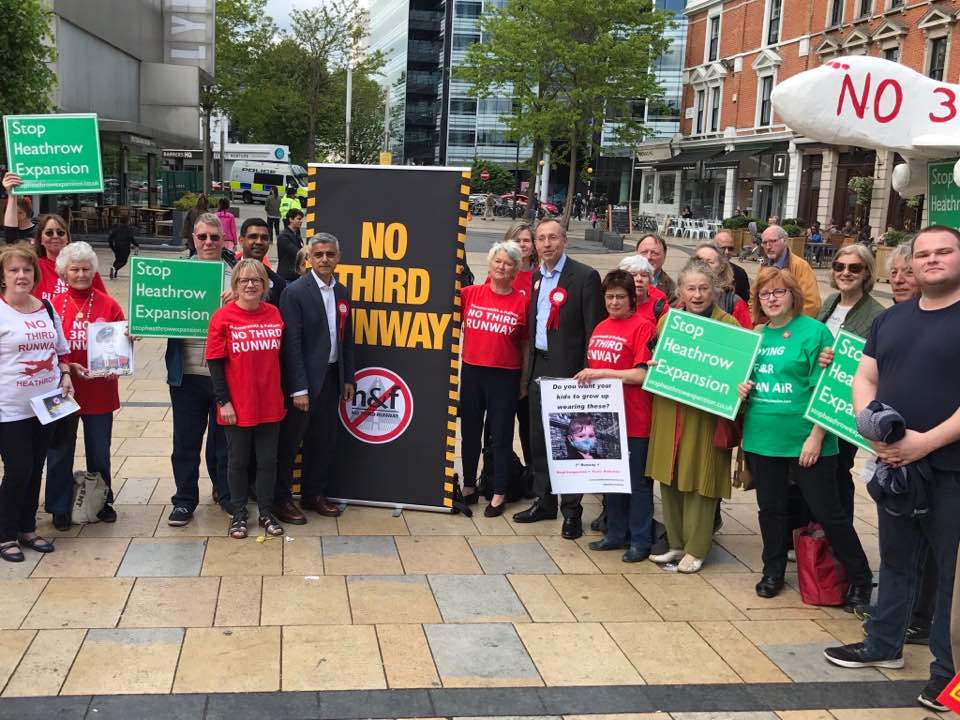 On 13th May London Mayor Sadiq Khan joined the local Hammersmith & Fulham No Third Runway Group to emphasise his opposition to a third runway at Heathrow.
Not all trade unions back a 3rd runway
26th October 2017

UNITE and the GMB unions back a 3rd runway at Heathrow and like to give the impression union backing for it is universal.  That is simply not the case.  Above, Tahir Latif from PCS Union explaining why his union opposes a 3rd runway, speaking at a public meeting organised by BASH in Hounslow on 26th October.
Here the transcript of his speech: http://hacan.org.uk/wp-content/uploads/2013/06/heathrow-third-runway-speech-@-BASH-mtg-26-10-17.pdf 
Third Runway Related Reports and Briefings
On 23rd February the influential Environmental Audit Committee released a report saying the Government has failed to convince it that it can deliver it promises on noise, air pollution and climate change re: a 3rd runway. Read more: http://hacan.org.uk/environment-select-committee-government-not-doing-enough-to-mitigate-impact-of-3rd-runway/ 
HACAN has produced  a dramatic new briefing which shows the Government has significantly downgraded the economic benefits of a 3rd runway.  Read the impact that will have on the regions: http://hacan.org.uk/wp-content/uploads/2013/06/The-Economic-Benefits-of-a-Third-Runway-Reassessed.pdf (pdf)
HACAN has published three more new briefings:
What a 3rd runway will cost the taxpayer: http://hacan.org.uk/wp-content/uploads/2013/06/Briefing-What-a-third-runway-at-Heathrow-will-cost-the-taxpayer.pdf (pdf)
Just how many new destinations will a 3rd runway serve? http://hacan.org.uk/wp-content/uploads/2013/06/Briefing-Just-how-much-new-connectivity-will-a-third-runway-at-Heathrow-really-provide.pdf (pdf)
Will a 3rd runway ever be built or will we just waste another 10 years?  http://hacan.org.uk/wp-content/uploads/2013/06/Briefing-Another-10-wasted-years.pdf (pdf)
Why a 3rd runway is undeliverable 
7 easy-to-read briefing sheets spelling out the 7 reasons why a 3rd runway cannot be delivered
READ: 20 Things To Know About A 3rd Runway

No 3rd Runway Coalition Launched

On March 21st a new coalition was launched to oppose a third runway at Heathrow.  The No 3rd Runway Coalition consists of 18 organisations and is backed by MPs, peers and local authorities:  http://www.standard.co.uk/news/transport/antiheathrow-expansion-campaigners-plan-to-step-up-third-runway-opposition-a3494941.html
For details of the key groups, including local groups you may want to join: http://hacan.org.uk/links-to-key-organisations/

Theresa May has fiercely opposed Heathrow expansion in the past.  For details see: http://wp.me/p5NPQ9-Wg
Our Flickr page has great photos of pictures of recent campaigning  events – check it out to see the range of protests that have been taking place 
OTHER NEWS
 24th October: Government published its Airspace Policy
There is much to be welcomed in it and contains some measures – such as the establishment of an independent noise authority and improved noise metrics – that HACAN has been campaigning for for many, many years.  We'll have more on it in due course but here is our summary of the key measures: http://hacan.org.uk/wp-content/uploads/2013/06/Airspace-Policy.pdf
Night Flights – No Change
Transport Secretary Chris Grayling announced on 13th July that the night flight regime at Heathrow would remain substantially unchanged for the next five years: Hope you're well… Not sure if you're around or if you could pass this on to a colleague but wondered how significant this was, and your reaction?
https://www.gov.uk/government/speeches/update-on-the-airports-nps-and-a-decision-on-night-flights
HACAN has commissioned an independent report which suggested that – in the event of a third runway being built – an eight hour night flight regime could become the norm: http://hacan.org.uk/wp-content/uploads/2013/06/AvGen-study-v1.1.pdf
End of Cranford Agreement Postponed
The Government abolished the Cranford Agreement in 2009.  This was the 50 year old understanding that planes did not take off from the northern runway over Cranford, at the Hounslow end of the runway.  It meant that, when an east wind blows, all planes must land over Windsor on the northern runway so that they can take off from the southern runway.  This has denied Windsor the half day's break from the noise which West London enjoys.
Heathrow needed to do work on its taxiways to allow planes to take off from the northern runway.  It got permission to this at a public inquiry but now wants to do further work on the taxiways so they fit in with any third runway.  It is therefore planning to roll this further work into its more general detailed work on a third runway.  If things go according to plan, it will not get planning permission for this until 2020/2021 after which the Cranford Agreement could become operational.
Overwhelming call for respite at Stockwell Meeting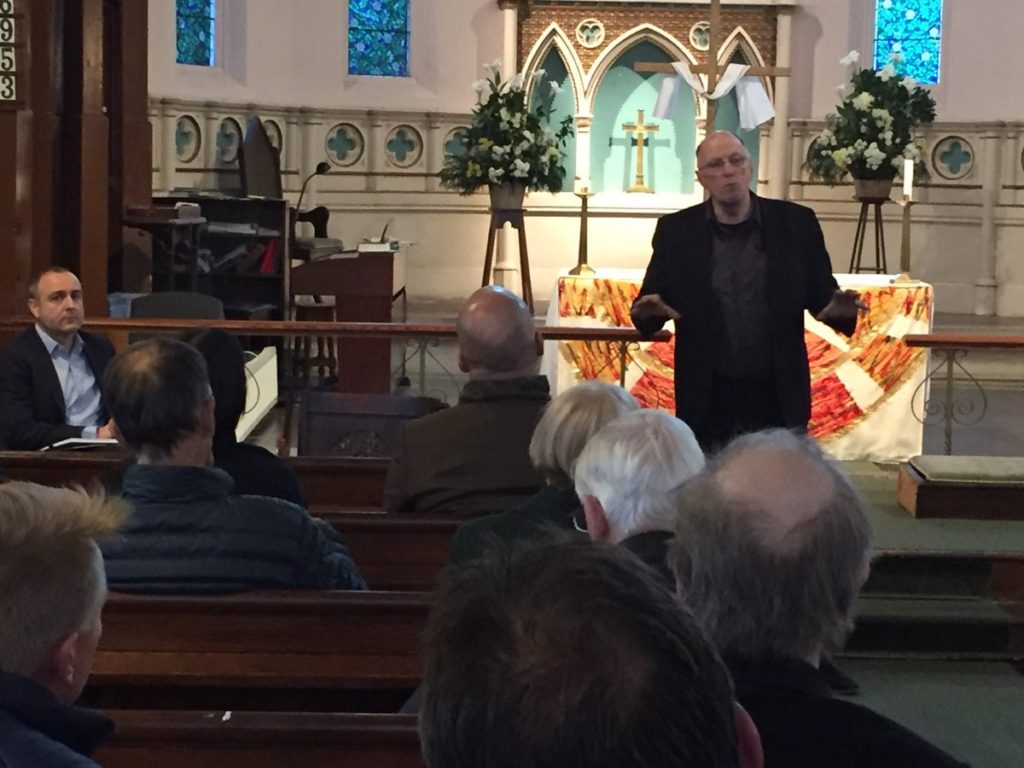 A Public Meeting held in Stockwell on 25th April heard repeated calls for some respite from the noise.  Stockwell, 18 miles from Heathrow, gets overflown by Heathrow  and London City aircraft.   It is under the concentrated City flight paths when an east wind is blowing and gets Heathrow planes throughout the day, sometimes between 30 and 40 an hour, when there is a west wind.  The unanimous call of the meeting was for predicable periods of relief from the noise.
Download our Briefings in PDF format: Third Runway timeline, Third Runway at Heathrow FAQ
Help us by joining our cause and helping the campaign here.
Noise and Flight Paths News
Noise remains a huge problem for a lot of residents under the Heathrow flight paths. This short paper provides a brief overview of some of the key pieces of work which Heathrow Airport has done, often in conjunction with community and campaign groups, over the last few years to assess, manage and reduce the noise. It also looks forward to what is in the pipeline.  A big opportunity to tackle noise will come when future airspace changes are introduced. These will take place whether of not a third runway is built. But since these new flight paths are unlikely to be in place much before 2014, it is essential that Heathrow does as much as it can to cut noise over the next few years.  Read the paper:  http://hacan.org.uk/wp-content/uploads/2013/06/Heathrow-noise.pdf
Heathrow's latest Blueprint for Noise Reduction contains welcome measures in the battle to cut noise: http://www.heathrow.com/file_source/HeathrowNoise/Static/Heathrow_Blueprint_for_Noise_Reduction_2.pdf
The importance of respite
Many people are in despair about the constant noise over their heads.  95% of the emails HACAN gets that contain a complaint are from areas which get no respite from the noise.  Read more here:  http://hacan.org.uk/blog/?p=477
Respite could bring real relief to many communities. 
Read why HACAN backs respite: http://hacan.org.uk/blog/?p=486
And why 'respite plus' may be needed for people living in 'hotspots: http://hacan.org.uk/blog/?p=489
Night Noise Research
The Civil Aviation Authority will soon be publishing research into the levels at which people start to get annoyed by planes at night.  It is similar to the work they did on daytime noise which led the Government to recognise that people can become disturbed at much lower levels than previously accepted.
Study into SteeperClimb Rates
Heathrow is continuing with its study looking at how possible it is to get planes to take off more steeply and the implications of that for local communities (the greater thrust required to take off more steeply might result in more noise over certain communities).  This work will be done over the next year or so.
Joint call for Independent Noise Authority
HACAN has joined with Heathrow Airport to call for an Independent Noise Authority to be set up.  The unlikely allies have produced a joint report with suggestions of how an Authority could work in advance of a Department of Transport consultation on the subject, expected in January.  The two groups have also sent a joint letter to the Transport Secretary.
Read the report: file:///C:/Users/user/Downloads/IANA-Joint-Paper-HACAN-and-Heathrow-Airport1.pdf 
Read the press release: http://mediacentre.heathrow.com/pressrelease/details/81/Corporate-operational-24/8054
http://hacan.org.uk/wp-content/uploads/2018/03/CAA-Heathrow-arrival-observations.pdf
http://hacan.org.uk/wp-content/uploads/2018/05/Downham-Flights.pdf