Residents dismayed by London City plans to double flights
 28th June 2019
Dates for your diaries:
Lewisham East MP Janet Daby is holding a public meeting about noise and flight paths in her constituency on 26th July where London City, Heathrow & NATS will be present. For details and tickets: https://www.janetdaby.org/news/2019/06/26/have-your-say-aircraft-noise-and-flight-paths/
Public Meeting, 30th July, 7.30pm – 9pm, Buxton School, Cann Hall Rd, E11 3NN, organised by Cann Hall Area Residents Association, with several other residents associations. Speakers: London City Airport, John Cryer MP, John Stewart (Chair HACAN East)
Waltham Forest Council will be holding a public meeting in Leytonstone Library on Tues 10th September 7.30- 9.30pm to discuss the London City proposals.
Residents are dismayed by the London City expansion revealed in its Master Plan published today.  The airport wants to lift the current cap of 111,000 flights allowed each year to 137,000 by 2030 and to 151,000 by 2035. Last year there were just over 75,000 flights.
 The airport also wants to get rid of the ban on flights between 12.30pm Saturday and 12,30pm on Sunday.  Additionally it is proposing that more flights are allowed to operate in the early morning and late evening.
 John Stewart, chair of HACAN East, which gives a voice to residents under the airport's flight paths, said, "For all its green talk, this plan would be disastrous for residents.  Flight numbers could double from today's levels.  And, to rub in the pain, the airport is looking to ease the restrictions at weekends and in the early morning and late evening."
 The consultation ruins from 28th June to 20th September.
 London City would need to go to a Planning Inquiry to get permission for any proposals it intends to take forward.
Summary in HACAN East Newsletter
Our sister organisation HACAN East has produced a 3 page briefing to help people who want to respond to the consultation: briefing
Read our look at why London City is going for this expansion, plus an assessment of its strategy and whether it will succeed: article
Read London City Press Release
For full details of the consultation: https://www.londoncityairport.com/corporate/consultation
 The full consultation document: https://assets.ctfassets.net/ggj4kbqgcch2/2mPk96XvzYbi3gJiSB6kbQ/8348be50e732fb0aa1daba2fb18b9516/p01-85_LCY_MP_Final_Reduced.pdf
Heathrow launches its 3rd runway consultation
18th June 2019
Heathrow today launched its statutory consultation on its expansion plans.  It will run from will 18th of June and end on the 13th of September.
Although Heathrow hopes to open the new runway by 2016, the full plans for expansion will be phased in over a 30 year period.  Heathrow is consulting on a huge variety of issues including the re-routing of roads (including the M25) and rivers; night flights, runway alternation, westerly preference, a Low Emissions Zone, a road pricing scheme, compensation for those whose homes will go and mitigation for those under flights paths and replacement car-parking facilities:
For details: https://aec.heathrowconsultation.com/topics/topic-groups/developing-our-preferred-masterplan/
HACAN has called it 'A mega project with a mega impact on local communities'
More details in our press release: https://hacan.org.uk/?p=5669 
Read HACAN's Briefing to help you navigate and respond to the consultation: Briefing
See the foot of this page for more information on the Impact of a Third Runway
Timetable of Key Events
Mid-December 2018: Department for Transport launched consultation on its Aviation Green Paper. Closed 20th June.
8th January 2019: Heathrow consulted on stage 2 of its proposed new flight paths.  Consultation closed 4th March
Mid-March 2019: Legal challenges against third runway heard in the High Court.
April 2019:  Court rules against objectors but they have indicated they will seek leave to appeal.
June 2019: Heathrow  launched its main consultation on its 3rd runway proposals, including its framework for managing noise.
Late 2019: Government expects to publish White Paper
2020: Heathrow to present its 3rd runway proposals to a Planning Inquiry. Recommendation to the Secretary of State for Transport expected 2021.
2021:  Final consultation on new detailed flight paths expected
2025/6:  If all the hurdles are overcome, Heathrow expects to open new runway
We have had a lot of questions about a Land Referencing letter some of you will have received from Heathrow. More details on what it is: click here 
A Flight Path Revolution
18 June 2019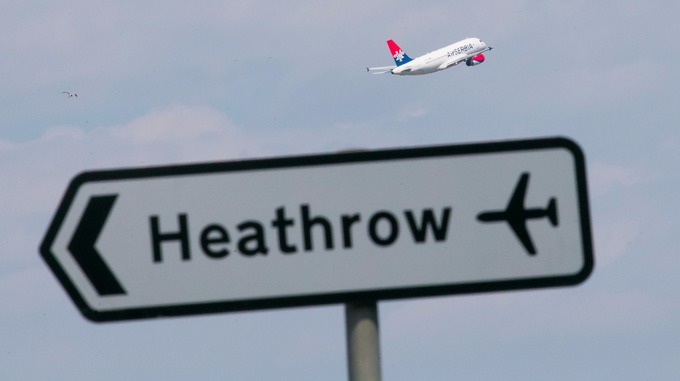 We get more enquiries about flight paths than anything else.  Heathrow  is planning the biggest change to its flights paths since it opened in 1946.  It will have a fundamental impact on residents.
Below is the latest information on flight paths:
We will not know the proposed new flight paths until 2021
Heathrow's major consultation on its flight path options closed on 4th March.
For more details on the proposals:  Heathrow Flight Path Consultation: January to March 2019: Details on consultation and responses  
The current consultation on the wider consultation on its 3rd runway proposals includes further proposals on night flights, runway alternation and westerly preference as well as Heathrow's proposed noise envelope.
For details read the noise section of the HACAN Briefing
More flight path information:
You can find maps of flight paths on Heathrow's website: http://www.heathrow.com/noise/facts,-stats-and-reports/operational-data/annual-flight-maps
You can also track flights as they land and take-off: http://webtrak5.bksv.com/lhr4
And you can see what the flight pattern was like over your house during the past six years: http://xplane.bksv.com/xplane/
Check out our flight paths button for info about current flight paths and up-to-date developments, including some Heathrow initiatives to reduce the noise from planes in flight:  https://hacan.org.uk/?page_id=3311
Campaigners lose court case
1st May 2019
The High Court today announced that it ruled against the local authorities and campaign groups who had brought Judicial Reviews against the Government's decision last year to give Heathrow permission to draw up plans for a third runway.  The objectors have decided to  appeal seek leave to appeal the decision.  Read the full judgement.
Noise Relief: major new report from HACAN
30th April 2019
HACAN released a report challenging the aviation industry to take action to improve the noise climate for local communities. Noise Relief outlines practical measures which could be taken to achieve this.
John Stewart, chair of HACAN and co-author of the report, said, "Heathrow is drawing up plans for the biggest shake up of its flight paths since the airport opened in 1946. HACAN welcomes many of these plans, particularly those which will bring some respite each day to the many areas which are currently flown over all day long.   But these new flight paths will not be in place for several years yet. Our report suggests measures which can be taken in the interim."
The report advocates four measures be taken to assist residents:
Stagger the point at which planes join their final approach path: at present 95% of planes now join within a narrow 4.8 nautical mile band;
Increase variation in departure routes: over the last ten years or so aircraft taking off from Heathrow have increasingly been concentrated along narrow flight paths;
Promote fairer night flight arrival distribution: night flights appear to vary their routes less than they did in the past;
Reduce simultaneous overflight by both Heathrow and London City arrivals:   there are days when parts of SE London are overflown by both Heathrow and London City aircraft, giving them at times over 50 planes an hour.
HACAN will now be lobby the industry for action on these measures
Read the full Noise Relief report.
London City: softening us up for further expansion?
Most of the stories about London City are found on our sister site, www.hacaneast.org.uk , but if City expands it will have a big impact on our members in SE, NE and East London, many of whom are also affected by Heathrow planes
23rd April 2019
London City Airport is up to something.  The quirky story in last week's Evening Standard is part of its new approach.  The paper reported that the airport is planning to create a "chilled" atmosphere, featuring "muted colours, less background noise and better directions" as part of the £500 million redesign of its terminal which is due to be completed by 2022.  The airport hopes that better the interior design will boost mental wellbeing of passengers
This is all very admirable but begs the question why London City is doing it.  I suspect it is part of a charm offensive before it unveils proposals for a further expansion of the airport.  This summer London City will publish its Master Plan where it will set out its 'vision' for the future.  This is expected to include an option to lift the current cap on the number of flights permitted to use the airport each year.
Read the full blog: click here
Heathrow still in a noisy league of its own
The numbers are taken from the latest noise action plans published by the UK airports in early 2019.
Many people are in despair about the constant noise over their heads.  95% of the emails HACAN gets contain a complaint are from areas which get no respite from the noise.  Read more here
Read why HACAN backs respite here
We also get a lot of questions about the metrics used to measure noise annoyance. A short HACAN paper explaining noise metrics.
And why Heathrow is using much better metrics to measure noise annoyance than before: click here
ExPlane is a new app to measure aviation noise which the public can use.  See here
Not just a West London problem – people relate their experiences on video of living with aircraft noise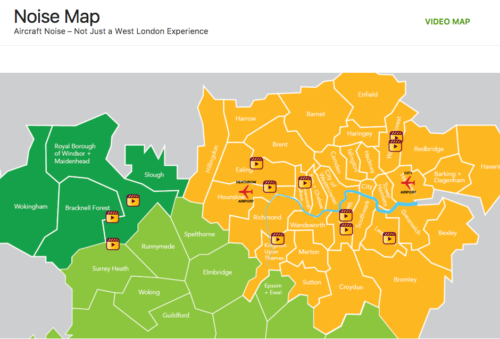 Click here to look at the videos: http://map.hacan.org.uk/
The impact of a Third Runway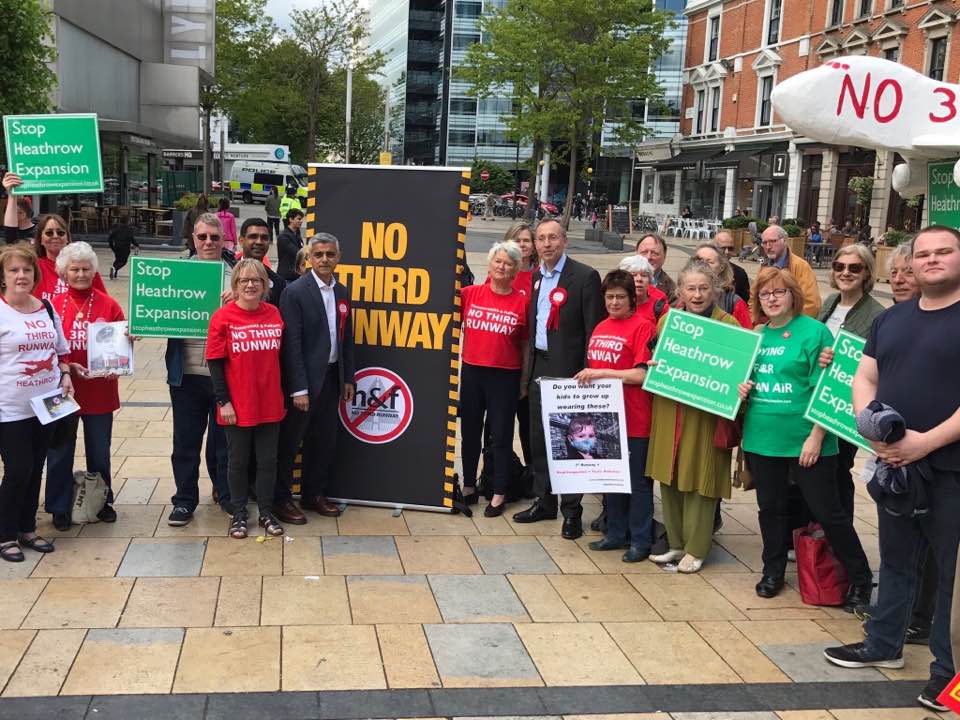 A new runway at Heathrow would mean just over 700 extra flights each day.  A total of 760,000 planes would use the airport.  Currently there is an annual cap on  flight numbers of 480,000.  A third runway would mean people in West London under the existing flight paths will lose part of the half day's break from the noise they currently enjoy. It would of course also mean many people under an arrivals or departure runway for the first time. On March 21st 2017 a new coalition was launched to oppose a third runway at Heathrow.  The No 3rd Runway Coalition consists of 18 organisations and is backed by MPs, peers and local authorities.
A third runway is not yet a done deal.  The proposals will need to go before a Planning Inquiry and, of course, a new Prime Minister or Government could take a different approach. Theresa May has fiercely opposed Heathrow expansion in the past.  For details see: http://wp.me/p5NPQ9-Wg
See reports section for third runway related reports and briefings: https://hacan.org.uk/?p=5024
Our Flickr page has great photos of pictures of campaigning  events – check it out to see the range of protests that have been taking place